Dane of Marrickville's Invisalign, Teeth Whitening and Composite Bonding Makeover
Dane of Marrickville's Invisalign, Teeth Whitening and Composite Bonding Makeover
Dane had always been conscientious about her oral health, but she couldn't help but feel self-conscious over the years about her teeth. She noticed they were not as straight as she'd like them to be, making her oral hygiene routine a bit more challenging than she'd prefer. On top of that, despite her diligent efforts, her teeth had become discoloured over time, leaving her feeling less confident about her smile. There were also small gaps between her teeth that bothered her.
One day, while browsing online for dental solutions, Dane stumbled upon a glowing review of Delight Dental Spa. The reviewer's story of a dental transformation piqued Dane's interest and decided to explore it further. After visiting the clinic's website and researching their services, Dane was impressed by the range of treatments they offered and the positive testimonials from patients who had undergone similar journeys towards a healthier smile.
What Were The Issues With Her Existing Teeth
Crooked teeth affecting oral hygiene.
Discoloured teeth
Gaps between teeth.
What We Did for Her Smile Makeover
Teeth Whitening
Composite Bonding
After several months of dedicated treatment, Dane's smile underwent a remarkable transformation. Her teeth were now perfectly aligned, making oral hygiene more manageable. Thanks to Invisalign clear aligners. The teeth whitening treatment significantly reduced discolouration, giving her a youthful appearance. Composite bonding closed the gaps between her teeth, providing a harmonious and symmetrical smile.
Dane was delighted with the results. She could now freely flash her beautiful smile without any hesitation. Her newfound dental health also boosted her overall well-being.
If you're looking to enhance your smile and address dental issues like Dane did, Delight Dental Spa is here to help. We would love to look after you here at Delight Dental Spa. Simply complete the form on our website, call us on (02) 9167 3973, or direct message us via social media, and our friendly team will be in touch to help you organise your consultation.
Book Your Invisalign Consultation Today
Ready to Make Your Dream Smile a Reality?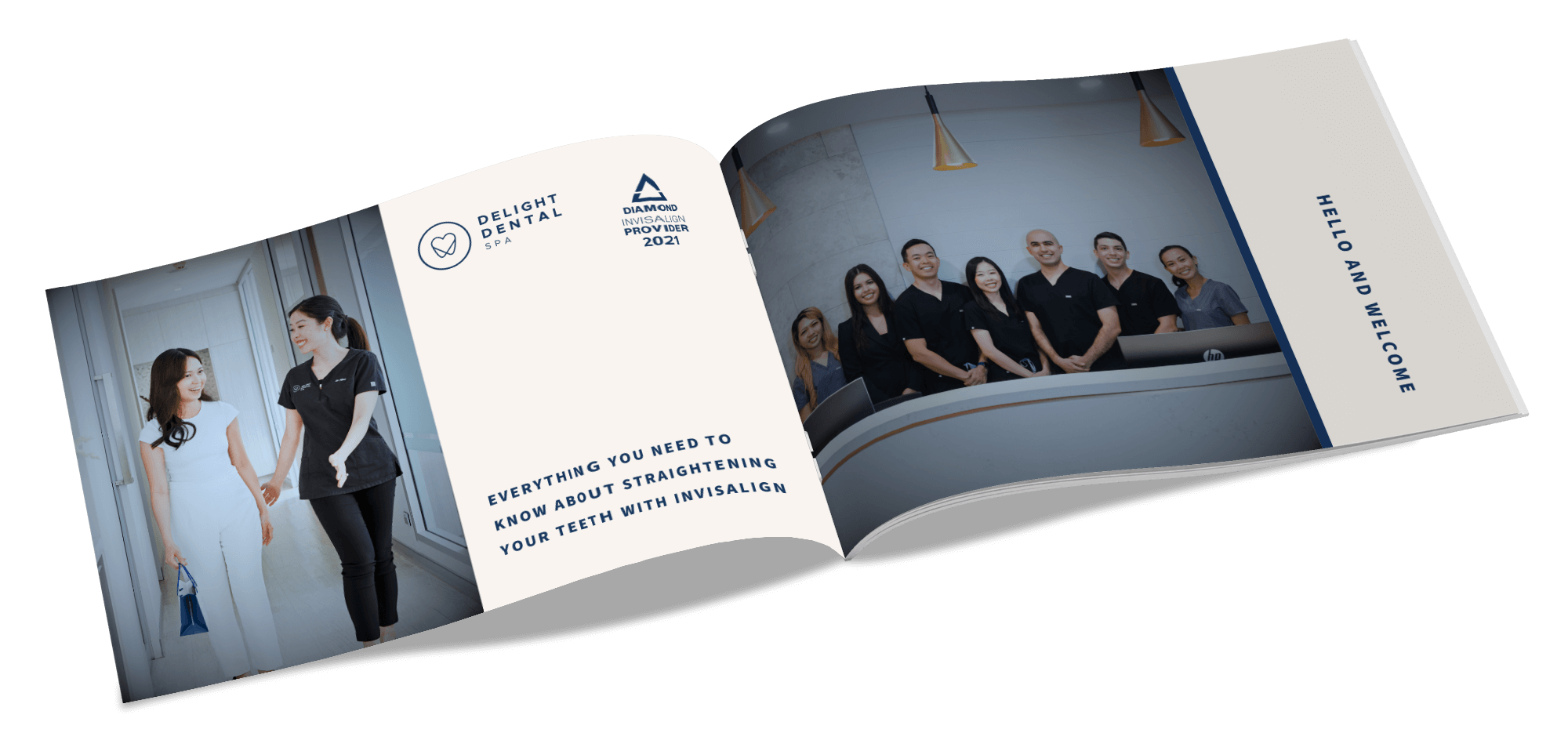 Not Quite Ready to Book? Download Our Invisalign Guide to See Some of Our Patients' Incredible Before and After Transformations.
AFFORDABLE AND FLEXIBLE
Payment Plans Available
Here at Delight Dental Spa, we offer flexible payment plans, ensuring premium dental care remains within reach. We strive to help you smile brighter, faster.

Disclaimer: The material posted is for informational purposes only and is not intended to substitute for professional medical advice, diagnosis or treatment. Results vary with each patient. Any dental procedure carries risks and benefits. If you have any specific questions about any dental and/or medical matter, you should consult your dentist, physician or other professional healthcare providers.
DENTAL TREATMENTS
Services We Mentioned: