Cheska Of Five Dock's Invisalign, Teeth Whitening and Composite Bonding Makeover
Cheska Of Five Dock's Invisalign, Teeth Whitening and Composite Bonding Makeover
Cheska's path to Delight Dental Spa was driven by her yearning for a brighter, harmoniously aligned smile. Despite her determined efforts to maintain her dental health, she faced persistent hardships in achieving the dental perfection she desired.
As she stepped into our practice, her dental concerns were palpable, igniting our team's dedication to enhancing and alleviating her dental aesthetics. Cheska's story is a testament to the encompassing care and exceptional expertise that Delight Dental Spa delivers to every patient.
What Were The Issues With Her Existing Teeth
Misaligned teeth causing functional discomfort.
Teeth discolouration and stains.
Visible gaps between the front teeth.
What We Did for Her Smile Makeover
Teeth Whitening
Composite Bonding
After completing her treatment, Cheska's experienced remarkable improvements in her oral health and aesthetics. The misaligned teeth were brought into harmony, enabling her to bite and chew comfortably. The teeth-whitening treatment effectively eliminated stains, enhancing the natural brightness of her smile. The composite bonding treatment addressed the gaps between her front teeth, resulting in a beautifully aligned smile.
Cheska is delighted with her new smile, and her satisfaction speaks volumes about the quality of care she received at Delight Dental Spa. Her journey demonstrates that comprehensive dental treatments can achieve functional improvements and remarkable aesthetic transformations.
If you want to enhance your smile and address dental issues like Cheska did, Delight Dental Spa is here to help. We would love to look after you here at Delight Dental Spa. Simply complete the form on our website, call us on (02) 9167 3973, or direct message us via social media, and our friendly team will be in touch to help you organise your consultation. Your dental goals are leaving you as satisfied as Cheska. Your dream smile is just a call away!
Book Your Invisalign Consultation Today
Ready to Make Your Dream Smile a Reality?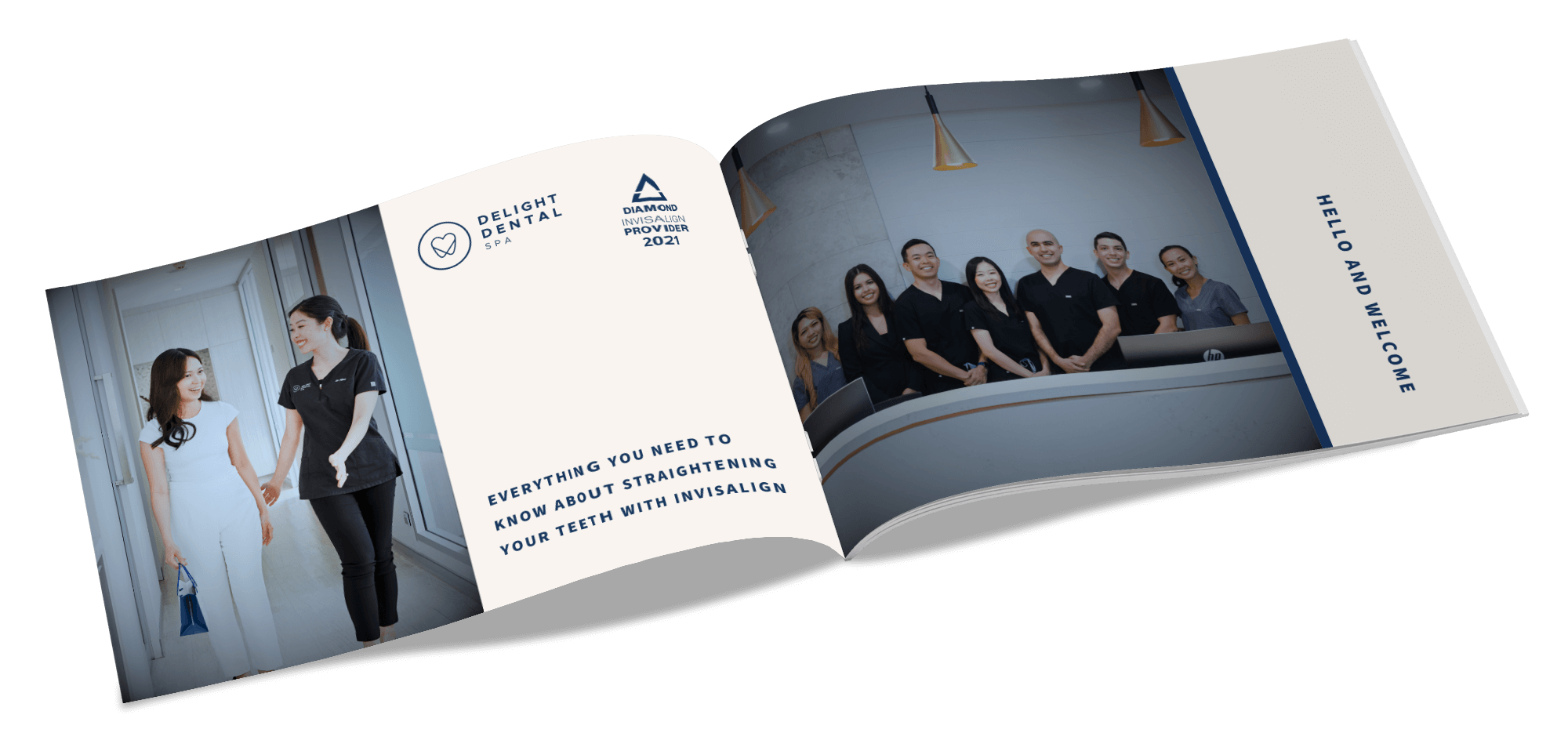 Not Quite Ready to Book? Download Our Invisalign Guide to See Some of Our Patients' Incredible Before and After Transformations.
AFFORDABLE AND FLEXIBLE
Payment Plans Available
Here at Delight Dental Spa, we offer flexible payment plans, ensuring premium dental care remains within reach. We strive to help you smile brighter, faster.

Disclaimer: The material posted is for informational purposes only and is not intended to substitute for professional medical advice, diagnosis or treatment. Results vary with each patient. Any dental procedure carries risks and benefits. If you have any specific questions about any dental and/or medical matter, you should consult your dentist, physician or other professional healthcare providers.
DENTAL TREATMENTS
Services We Mentioned:
REAL PATIENTS, REAL STORIES
More Client Journeys