make your everyday interactions more delightful
Gummy Smile Mascot, Sydney
A beautiful smile is more than just straight, white teeth. It's also about the right balance between your teeth and the gum line being in harmony with your face. When that balance is off, you might find yourself with a gummy smile. But don't worry, because we are here to provide all the solutions you need to regain that perfectly balanced smile.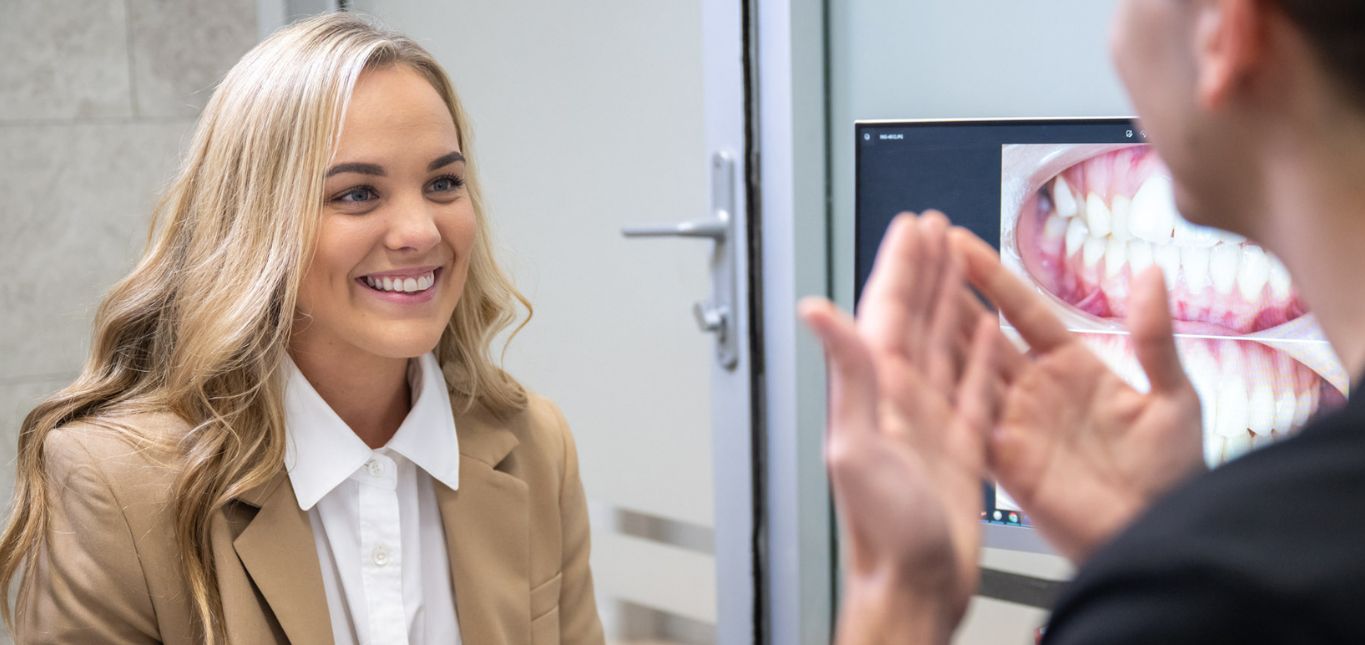 Causes and Variations
What is a Gummy Smile?
A gummy smile, medically termed as excessive gingival display, is a condition where a higher than-normal amount of gum tissue shows above the top teeth when you smile. It's not a health concern per se, but for some, it could affect self-esteem and comfort when smiling.
Each gummy smile is unique. Factors contributing to a gummy smile include:
Altered Passive Eruption
Sometimes, during tooth eruption, the gum tissue doesn't recede properly, causing the teeth to appear short and covered with excessive gum tissue.
Hypermobile Upper Lip
An overly active muscle can cause the upper lip to rise higher than normal, exposing more gum tissue when smiling.
Vertical Maxillary Excess
It is a condition where the upper jaw has overgrown, causing more gum tissue to be visible.
Happy PATIENTS, HAPPY SMILES
Our Commitment To You
Welcome to the eloquent expressions of gratitude from our cherished patients at Delight Dental Spa. In this testimonial, you'll glimpse the artistry and precision that define our approach to dental care. Each story is a testament to the transformational power of our services, where both aesthetics and well-being find their rightful place. Explore the journey of radiant smiles and impeccable oral health through the eyes of those who have experienced the epitome of dental excellence with us.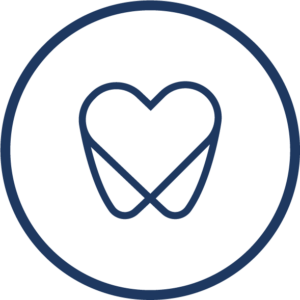 HUGE thanks to Dr Alice for giving the best service in the city. Most enjoyable experience i've ever had at the dentist. The receptionist was lovely and very helpful. 100% my go to dentist from now on.
Vincent V.
Personalised Solutions
Treatments at Delight Dental Spa for Gummy Smile

At Delight Dental Spa, we focus on providing personalised treatment options for gummy smiles. Our skilled dentists and staff are trained to provide a relaxing environment, reminiscent of a spa, where your comfort and happiness are our top priority. We offer a number of innovative treatments designed to correct your gummy smile.
Laser Gum Contouring
A highly effective and minimally invasive solution is laser gum contouring. This treatment trims away the excessive gum tissue, exposing more of your teeth for a balanced smile.
Cosmetic Injections
Another innovative solution we provide for hypermobile upper lips is cosmetic injections. Cosmetic injections can help relax the lip muscles, thus reducing the upward lift of your lip when you smile.
Orthognathic Surgery
In cases where skeletal discrepancies like vertical maxillary excess cause a gummy smile, we might recommend orthognathic surgery. This procedure involves surgically repositioning the jaw to reduce gum visibility.
Periodontal Plastic Surgery
For a more long-term solution, we offer periodontal plastic surgery. This procedure reshapes the gum line to reveal a more proportionate and visually pleasing smile.
Personalised Care
Why Choose Delight Dental Spa for Your Gummy Smile Treatment?
We understand that every gummy smile is unique. At Delight Dental Spa, we believe in providing individualised care tailored to your specific needs.
Expert Care
Our skilled dentists and hygienists have years of experience in treating gummy smiles. They are proficient in performing both surgical and non-surgical procedures with the utmost precision.
Cutting-Edge Technology
We use state-of-the-art dental technology to diagnose and treat a gummy smile. This ensures optimal results with minimal discomfort.
Patient-Centric Approach
Your comfort is our priority. We provide a relaxing spa-like environment where you can feel at ease during your treatment.
Comprehensive Treatment Plan
We provide a comprehensive treatment plan addressing not only your aesthetic concerns but also your oral health needs.
Aftercare Support
We offer dedicated aftercare support to ensure your smile stays perfect long after your treatment.
Outside Business Hours
We go the extra mile to accommodate patients by extending our operating hours beyond the regular timeframe, remaining open until 6:00 pm. Additionally, for those unable to attend appointments during the week, we ensure availability by opening on Saturdays until 1:00 pm, offering a convenient solution for patients with various schedules.
Say goodbye to your gummy smile and hello to a stunning smile with us here at Delight Dental Spa. Contact us today to book a consultation and start your journey towards a delightful smile.
Before and After
Our Patient's Transformations
Your Comprehensive Resource
New Patient Guide & Price List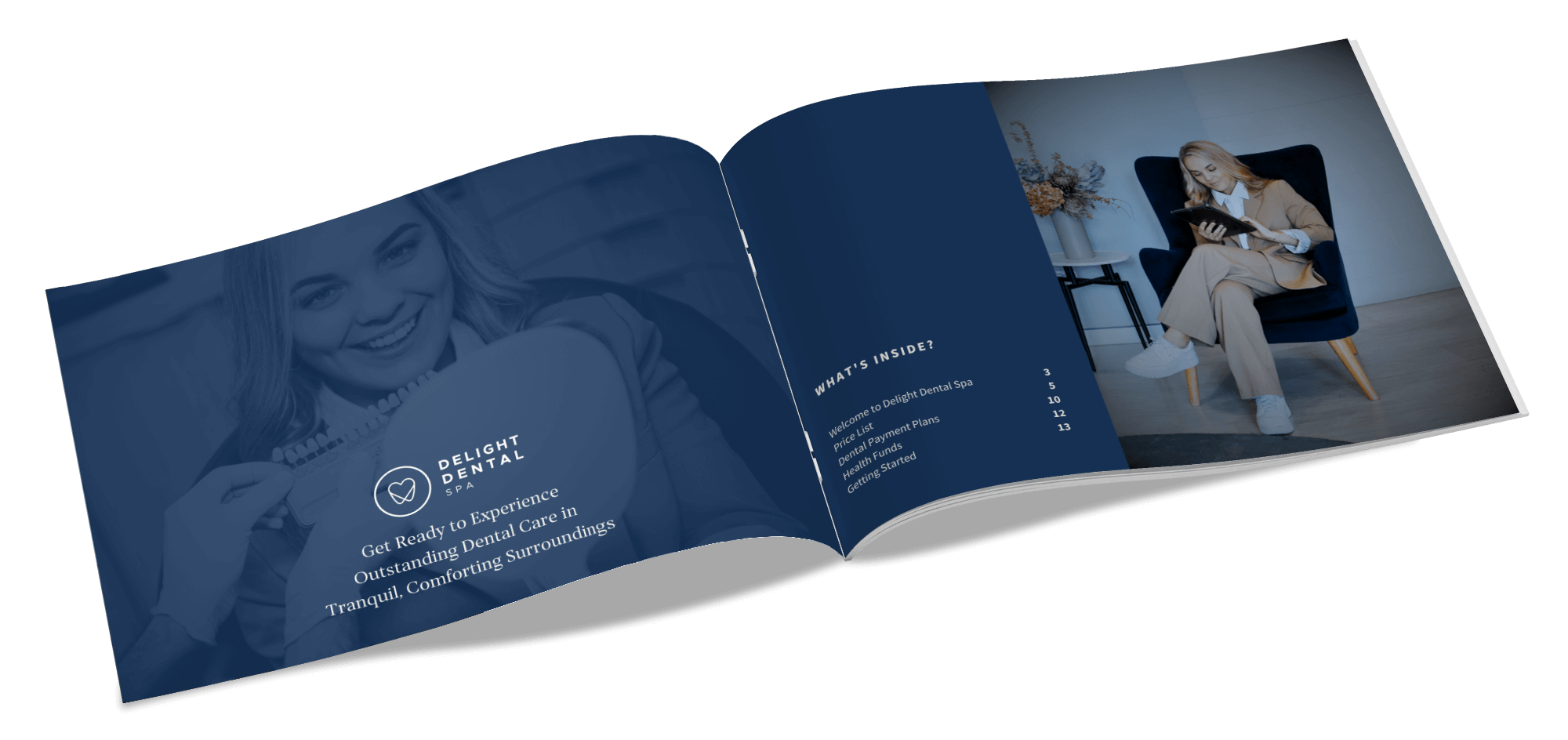 Get All the Information You Need on Pricing, Health Funds and the Application Process for Our Flexible Payment Plans.
Price List
Health Funds
New Patient Form
Dental Payment Plan Options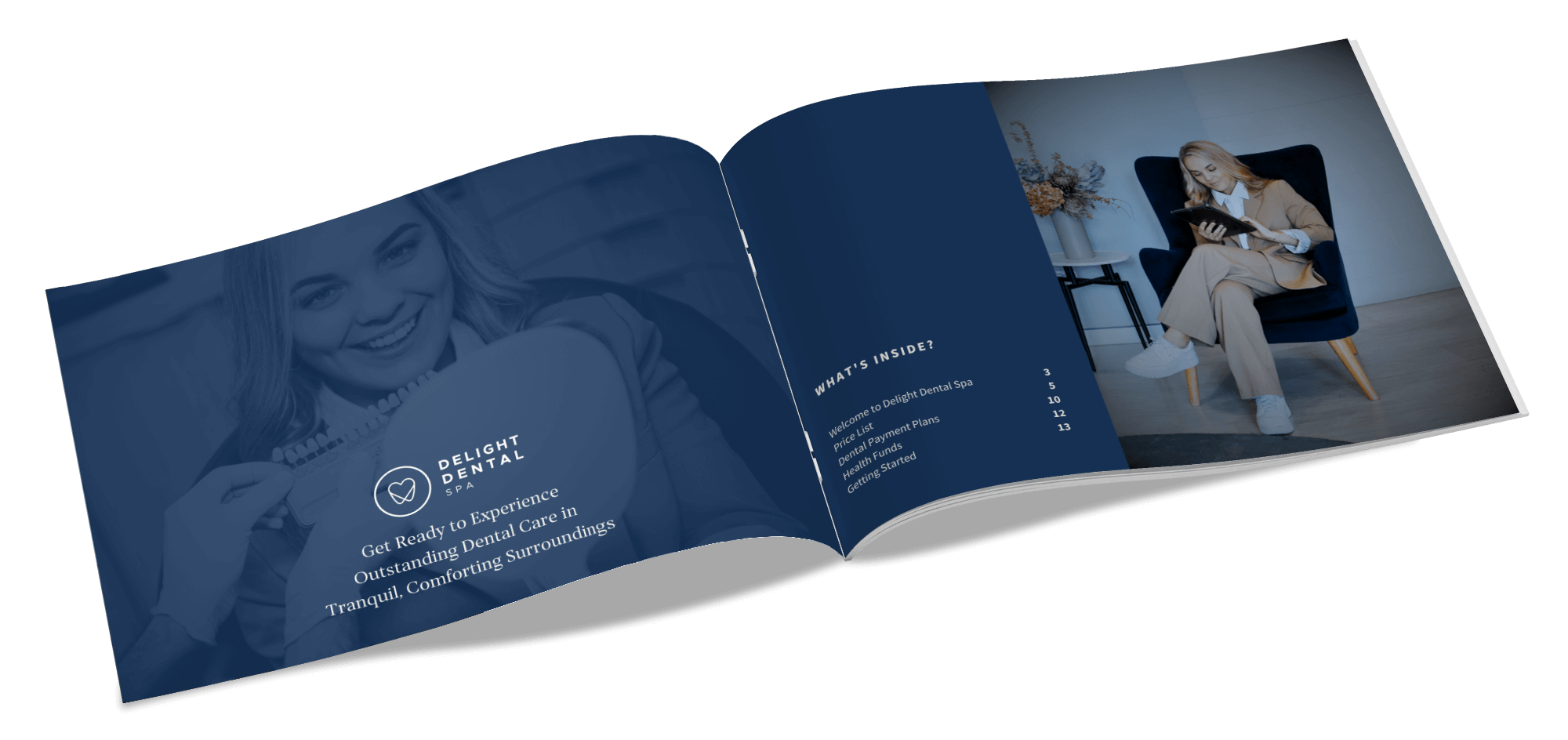 Unlocking Gummy Smile Questions
Gummy Smile FAQs
1. Is a gummy smile a dental issue?
While a gummy smile is not typically a health issue, it can sometimes indicate underlying dental problems. Moreover, for many, it's more of a cosmetic concern impacting their well-being. At Delight Dental Spa, we believe in helping you smile with radiance.
2. Does a gummy smile treatment hurt?
At Delight Dental Spa, your comfort is our utmost priority. Procedures such as laser gum contouring or cosmetic injections are minimally invasive, and discomfort is typically minimal. For surgical treatments, we use effective anaesthesia to ensure a comfortable experience.
3. How long does a gummy smile treatment take?
The duration of the treatment depends on the complexity of the case and the chosen treatment plan. Non-surgical procedures can often be completed in one visit, while surgical treatments might require more time and follow-up visits.
4. Is the gummy smile treatment permanent?
While treatments like laser gum contouring offer permanent results, some procedures, like Cosmetic injections, might require regular follow-ups. Our experts will provide you with a detailed treatment plan, including aftercare instructions to maintain your stunning results.
You don't have to live with a smile that doesn't make you happy. A solution is within reach with our expert team. Don't let a gummy smile keep you from expressing your joy, contact us today.
If you have more questions or are ready to take the first step toward your new smile, don't hesitate to reach out to us at Delight Dental Spa. We're looking forward to helping you smile with delight.
Affordable And Flexible
Payment Plans Available
Here at Delight Dental Spa, we offer flexible payment plans, ensuring premium dental care remains within reach. We strive to help you smile brighter, faster.

Revamp Your Smile
More about Delight Dental Spa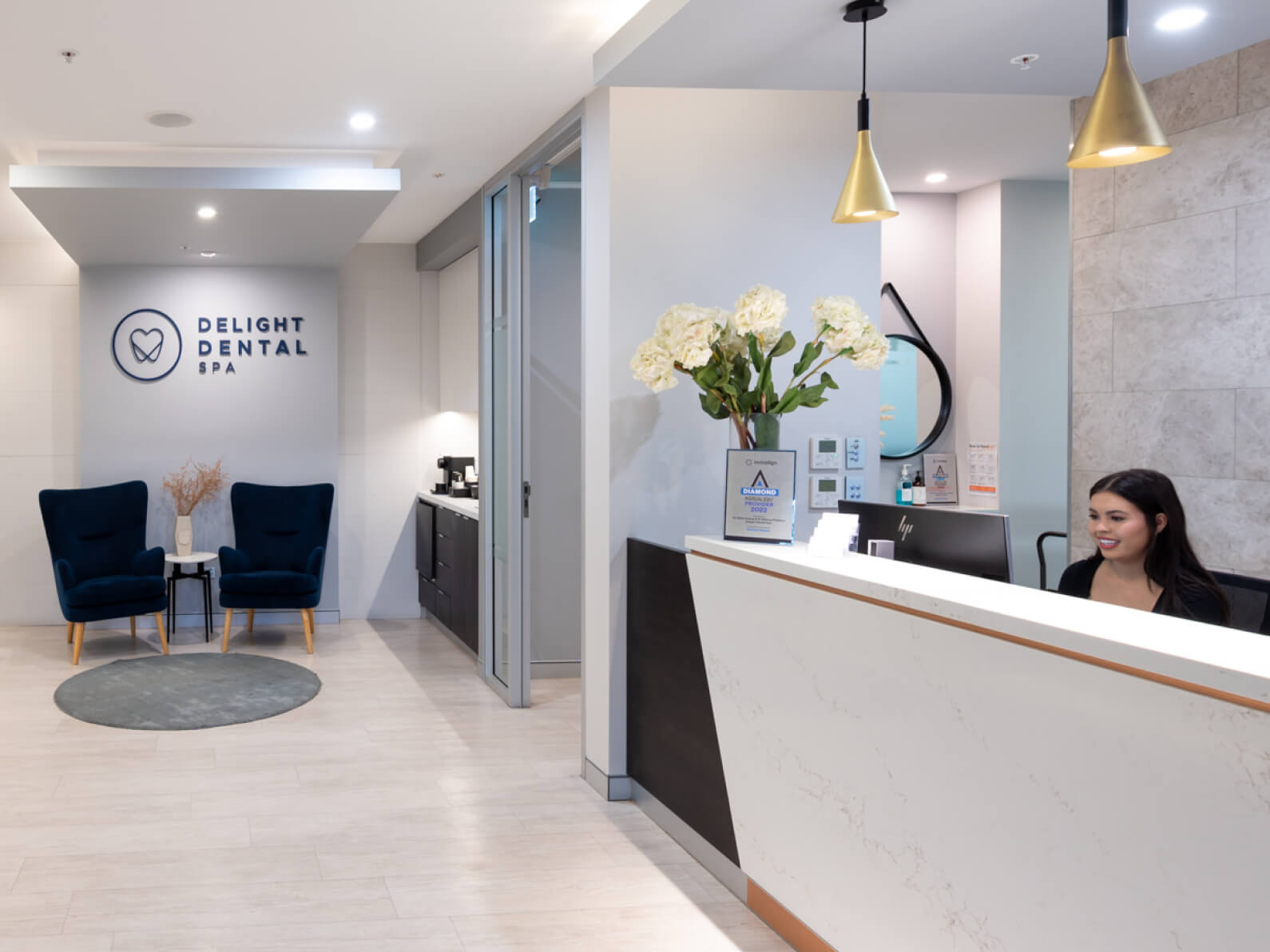 At
Delight Dental Spa
, we're about more than just dental procedures – we're about creating a comfortable, soothing experience that leaves you feeling refreshed. Our name isn't just for show; we've incorporated elements of a traditional spa into our practice, creating a unique and calming atmosphere for all our clients.
If you're looking to transform your gummy smile into a radiant one, look no further than Delight Dental Spa. In our hands, not only will your smile change, but your whole dental experience will too. Come in and experience the 'delight' in Delight Dental Spa. Your smile will thank you for it!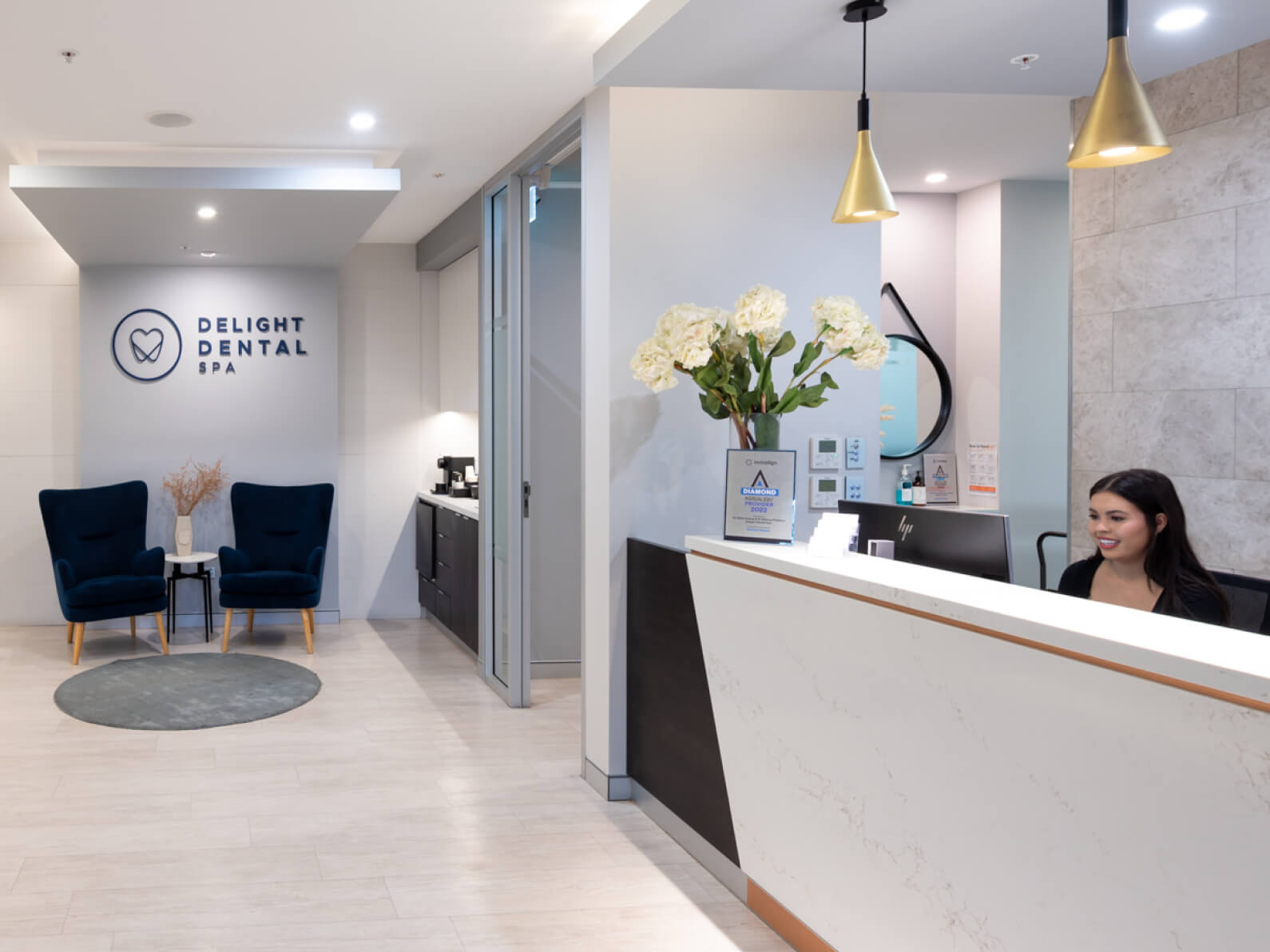 Disclaimer: The material posted is for informational purposes only and is not intended to substitute for professional medical advice, diagnosis or treatment. Results vary with each patient. Any dental procedure carries risks and benefits. If you have any specific questions about any dental and/or medical matter, you should consult your dentist, physician or other professional healthcare providers.
Explore Our Cosmetic Options
see Our Other Cosmetic Treatments
Stay Informed and Inspired
Cosmetic Video Blogs
Watch our cosmetic smile makeover video blogs as we dive into cosmetic topics ranging from Invisalign to Veneers, and everything in between. Our aim is to make your journey to a radiant smile both empowering and comfortable. Tune in for expert advice and a unique glimpse into the Delight Dental Spa experience.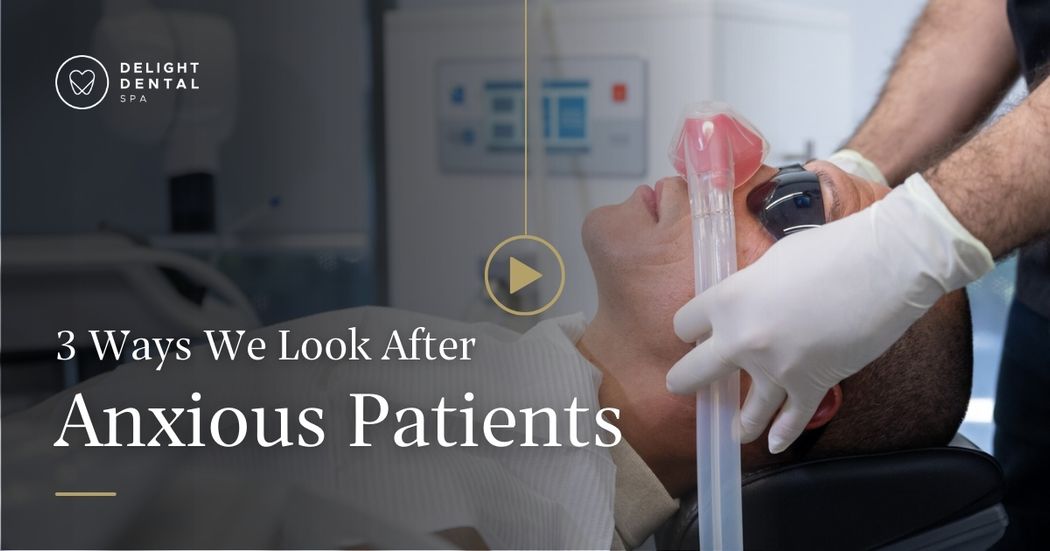 I noticed that some new patients can get very anxious about visiting a dentist for the first time....