make your everyday interactions more delightful
Dental Crowns Mascot, Sydney
Maybe you've accidentally chipped or broken a tooth. Perhaps your past dental work is no longer giving your teeth the protection they need. Or it could be that you simply can't stand the sight of that one discoloured tooth any longer.
‍Whether it's for function or cosmetic reasons, dental crowns can help you put a cap on problem teeth and restore your smile to its full glory.
‍At Delight Dental Spa, we have different types of dental crowns to suit every smile. Simply come in for your check-up and we'll discuss the best options to repair and renew your troublesome teeth.
calm and Functional
Comfortable dentistry capped off with natural, predictable results
We invest in the best technology and training to ensure you receive a long-lasting, natural-looking result.
Experience comfortable dental care with our tailored sedation solutions.
Your dental crown is masterfully crafted to look just like the real thing
State-of-the-art technology means your dental crown can be prepared and fitted in the same appointment
Quick and Effective
Dental crowns done in one day
Quick and Effective
Dental crowns done in one day
Tooth crowns or tooth caps are a strong, natural-looking replacement for damaged, decayed or missing teeth. Made from long-lasting, tooth-coloured materials, dental crowns are designed to fit seamlessly into your smile and work just like your real teeth.
At Delight Dental Spa, we've invested in state-of-the-art CEREC technology that allows us to prepare and fit your dental crown on the same day. This means no fussing around with multiple appointments so you can fix your smile fast.
‍Plus, your dental crown procedure will be a dream with our sleep dentistry options.
Happy PATIENTS, HAPPY SMILES
Our Commitment To You
Welcome to the eloquent expressions of gratitude from our cherished patients at Delight Dental Spa. In this testimonial, you'll glimpse the artistry and precision that define our approach to dental care. Each story is a testament to the transformational power of our services, where both aesthetics and well-being find their rightful place. Explore the journey of radiant smiles and impeccable oral health through the eyes of those who have experienced the epitome of dental excellence with us.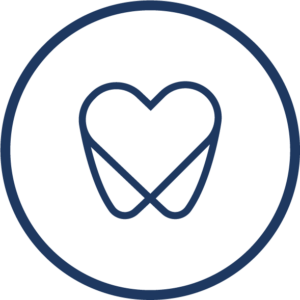 The team at Delight Dental Spa are kind and empathetic. They take the time to get to know you personally while delivering top quality dental care in a calm and reassuring environment with competitive prices for dental services. I would recommend Delight Dental Spa to anyone!
Callum B.
a step-by-step guide
Dental crown process
Three steps to a strong, healthy smile
Easily book your appointment online at a time that suits you
Come in for your dental check-up, get x-rays and discuss your dental crown options
Get your dental crown custom made and fitted on the same day
Your Comprehensive Resource
New Patient Guide & Price List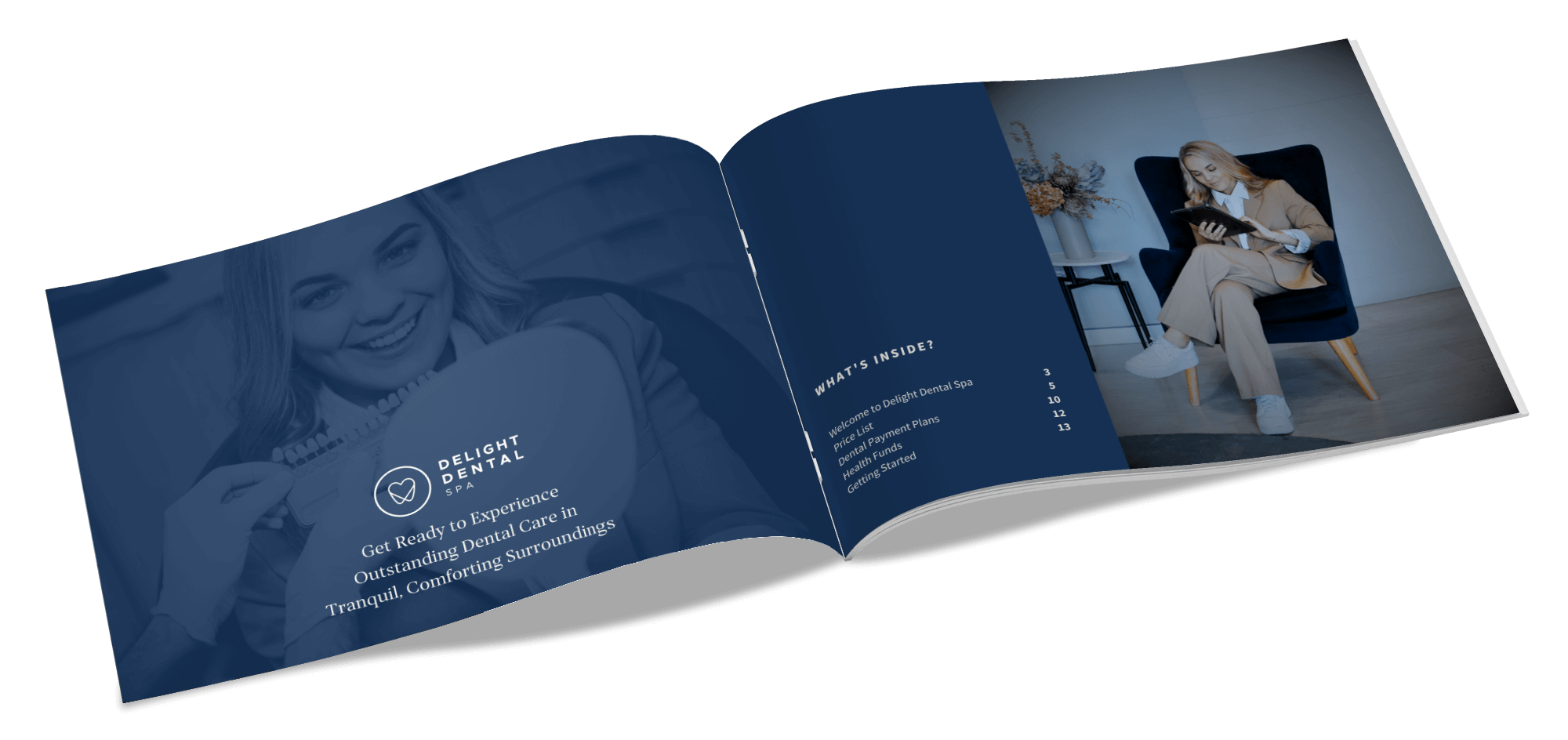 Get All the Information You Need on Pricing, Health Funds and the Application Process for Our Flexible Payment Plans.
Price List
Health Funds
New Patient Form
Dental Payment Plan Options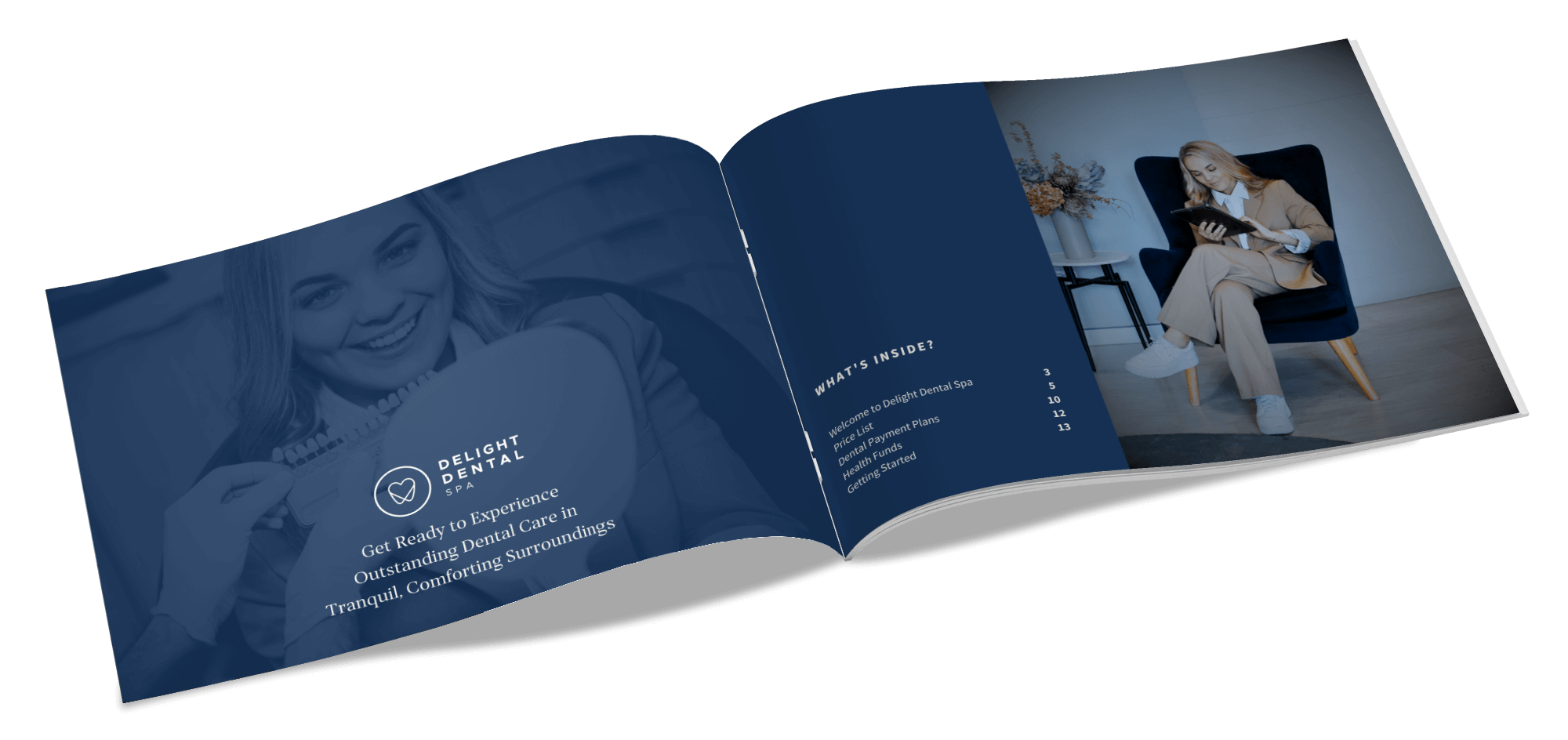 Frequently Asked Questions
Have a question about dental crown and bridge procedures at Delight Dental Spa?
What is a dental crown?
A dental crown (also called a dental cap) is a tooth-shaped cap that is permanently fixed over the top of a natural tooth. It covers the existing tooth entirely, helping to restore its appearance, shape, size, functionality and strength. Dental crowns are generally made from porcelain to look just like natural teeth, but can also be made from a combination of metal and porcelain.
When is a dental crown needed?
Dental crowns are mostly used to cover broken, chipped, damaged or decayed teeth when too much of the original tooth is missing, like after root canal treatment. They are also used to protect and strengthen a weak tooth or for aesthetic reasons to cover a stained or badly shaped tooth. Crowns are also used in dental implant treatments to replace missing teeth.
What is a temporary crown?
Your dentist may provide you with a temporary crown to cover your damaged tooth while your permanent crown is being made. Temporary dental crowns are generally made from acrylic or composite material so they are not as long-lasting as permanent crowns, which are made from ceramic or metal.
How is a dental crown fitted?
Dental crowns are custom made for the specific tooth so it often takes more than one visit to get a crown fitted. During your first visit, your dentist will examine your teeth and take x-rays, measurements and impression moulds for your crown. Thanks to our advanced CEREC technology, we can make your dental crown on the same day in our surgery. Once your crown is ready, your dentist will drill down your tooth to prepare an area for your crown to be attached. Your crown will be permanently fixed in place using cement.
What is a dental bridge?
Dental bridges help to literally bridge the gap created when you're missing one or more teeth. With a traditional dental bridge, a dental crown will be created for the tooth on either side of the missing tooth or teeth with a false tooth or teeth in between.
Affordable And Flexible
Payment Plans Available
Here at Delight Dental Spa, we offer flexible payment plans, ensuring premium dental care remains within reach. We strive to help you smile brighter, faster.

RESTORE YOUR RADIANT SMILE
see Our Other Restorative Treatments
schedule your appointment today
Restore your smile with strong, natural-looking dental crowns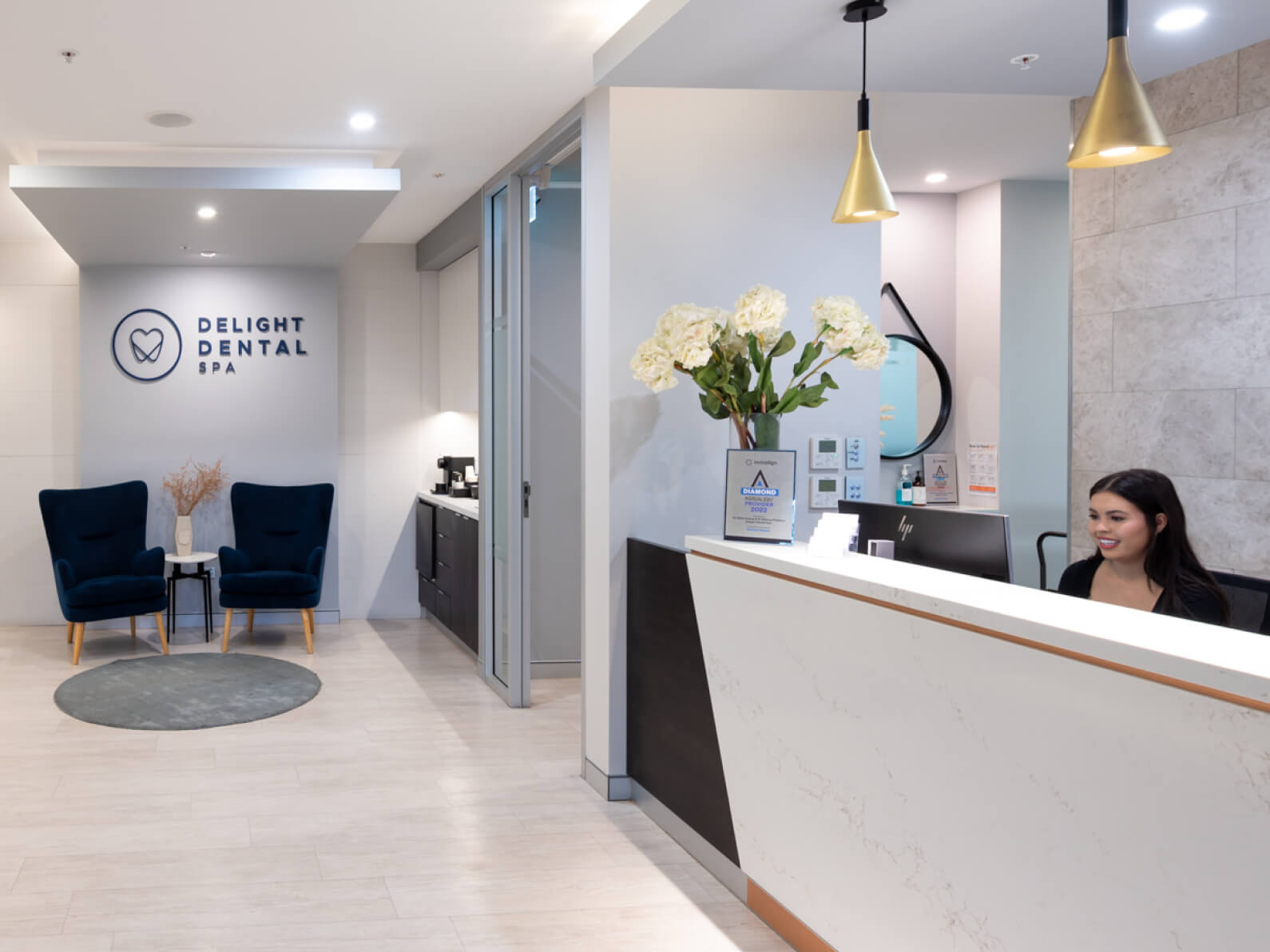 Transform your smile with our premium dental crowns! Say goodbye to discomfort and hello to a natural, stunning look. Our experienced dental professionals are ready to provide you with personalised solutions for a healthier, more radiant smile. Don't wait—schedule your appointment now and take the first step towards a brighter future with our top-notch dental crown services.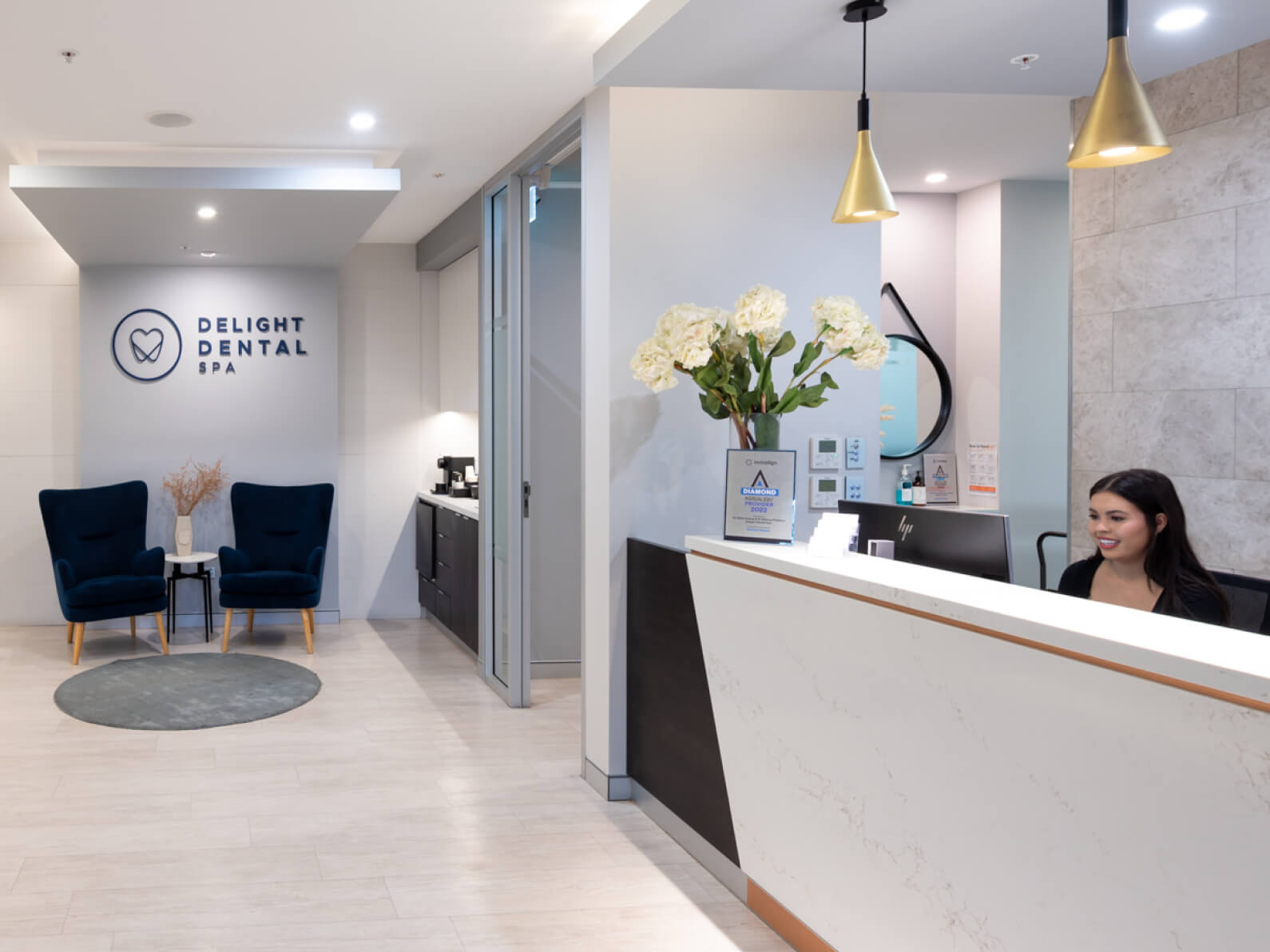 Disclaimer: The material posted is for informational purposes only and is not intended to substitute for professional medical advice, diagnosis or treatment. Results vary with each patient. Any dental procedure carries risks and benefits. If you have any specific questions about any dental and/or medical matter, you should consult your dentist, physician or other professional healthcare providers.
* Subject to credit check and finance approval, excludes fees and charges
Stay Informed and Inspired
Restorative Dentistry Video Blogs
Discover our comprehensive video blogs featuring a variety of restorative treatments that can help transform your smile. From the permanent solution of Dental Implants to the fast and convenient CEREC Same Day Crowns, the restorative benefits of Dental Crowns & Bridges, and the comfortable experience of Sleep Dentistry, we cover a range of options to address your dental needs.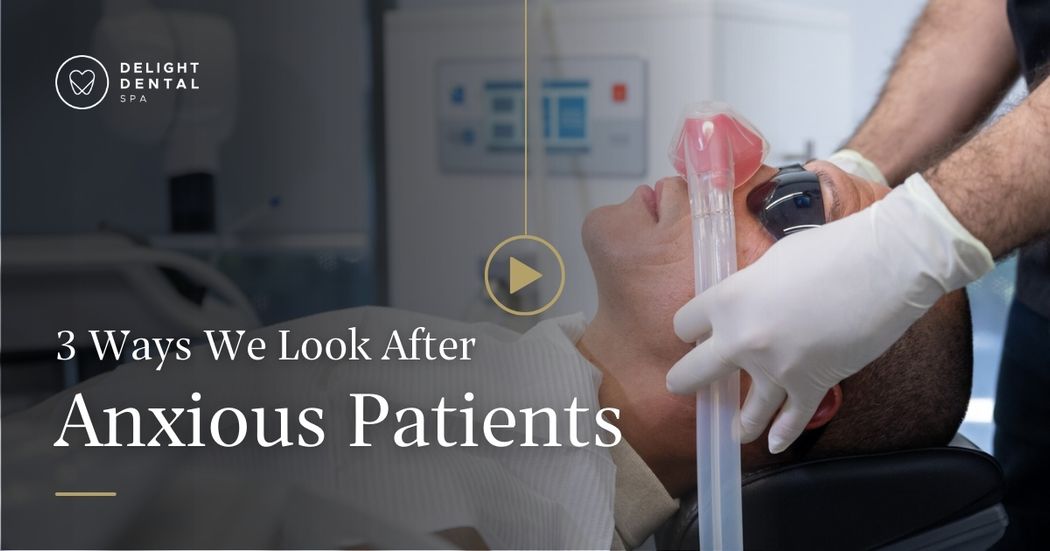 I noticed that some new patients can get very anxious about visiting a dentist for the first time....