make your everyday interactions more delightful
Invisalign Mascot, Sydney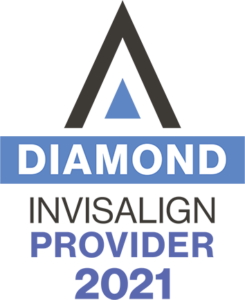 You've probably heard of Invisalign and know all about braces if you've been hankering to straighten your lovely smile and bring out its full glory.
Maybe you know enough to be absolutely sure braces would inconvenience you, but you don't know if Invisalign would be as effective.
If you're like most adults, the time for braces is long past. Maybe you simply can't fit them into your life right now. Or you want to be able to eat, drink and go out without a care. Perhaps you need to front up to work engagements without anything holding you back.
Luckily, Invisalign is effective for most cases. It may be the perfect solution for you, with virtually invisible aligner trays you can remove when you need your freedom.
And you don't need to wonder anymore – come in for a consultation. We are one of the few Diamond-level Invisalign providers in Sydney – which means we've helped hundreds of patients and can help you get on your way to enjoying a fabulous straight smile.
a brighter, more beautiful you
Your new smile: brought to you by Invisalign Diamond Providers
Dental Delight Spa has been awarded Diamond Provider status by Invisalign, which means we've helped hundreds of people achieve their dream smile without the hassle of braces.
Experienced care for a predictable outcome
Easy, interest-free payment plans
See your new smile on the Invisalign simulator before you even start treatment
Before and After
Our Patient's Transformations
Safe and Removable
It's comfy, convenient — and did we mention invisible?
Safe and Removable
It's comfy, convenient — and did we mention invisible?
Unlike traditional metal braces, Invisalign moves your teeth into place thanks to thin, transparent trays. No-one will know they're there – and you'll barely feel them.
The trays are custom-made and your progress is monitored with special software that determines how to reposition your teeth for a predictable, perfect result.
You'll even be able to see changes with a digital simulation.
Invisalign is great for most cases where teeth straightening is needed, and, it can be part of a total smile makeover too, if you're after a brand new look.
The best part is – unlike braces – you can remove your Invisalign trays whenever you need to. You can take them out to eat and drink, brush and floss, or for that big event.
If you've been wishing you could straighten your teeth without braces, your wish may be about to come true.
Happy PATIENTS, HAPPY SMILES
Our Commitment To You
Welcome to the eloquent expressions of gratitude from our cherished patients at Delight Dental Spa. In this testimonial, you'll glimpse the artistry and precision that define our approach to dental care. Each story is a testament to the transformational power of our services, where both aesthetics and well-being find their rightful place. Explore the journey of radiant smiles and impeccable oral health through the eyes of those who have experienced the epitome of dental excellence with us.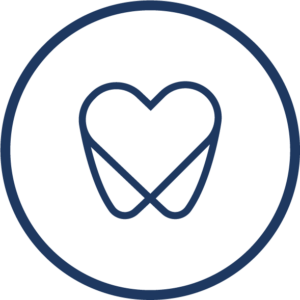 Dr Alice and the Delight Dental team are professional, friendly and informative! I have and will continue to recommend them to anyone needing a great dentist and pleasant experience. Shaira at the front office is also so wonderful, super quick to reply to queries and definitely knows what customer service is all about! Thanks team.
Dora V.
a step-by-step guide
The Invisalign Process
Three steps to your straighter smile
Come in for a consultation. If you're ready, get started with digital impressions that day!
Follow your treatment plan for 4-36 months with check-ups every 6-8 weeks
Celebrate and enjoy that fabulous, straight smile for life!
OUR PATIENTS' STORIES
Some Of Our Client Journeys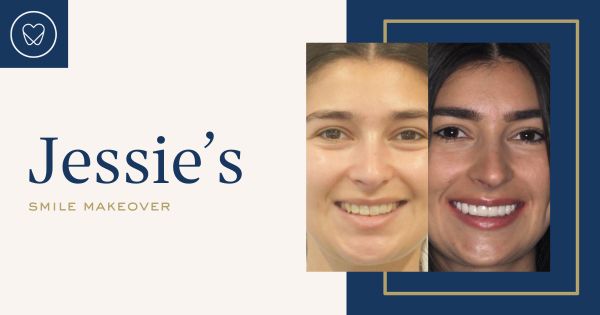 The porcelain veneers were the finishing touch, evening out her teeth and adding a polished look...
Book Your Invisalign Consultation Today
Ready to Make Your Dream Smile a Reality?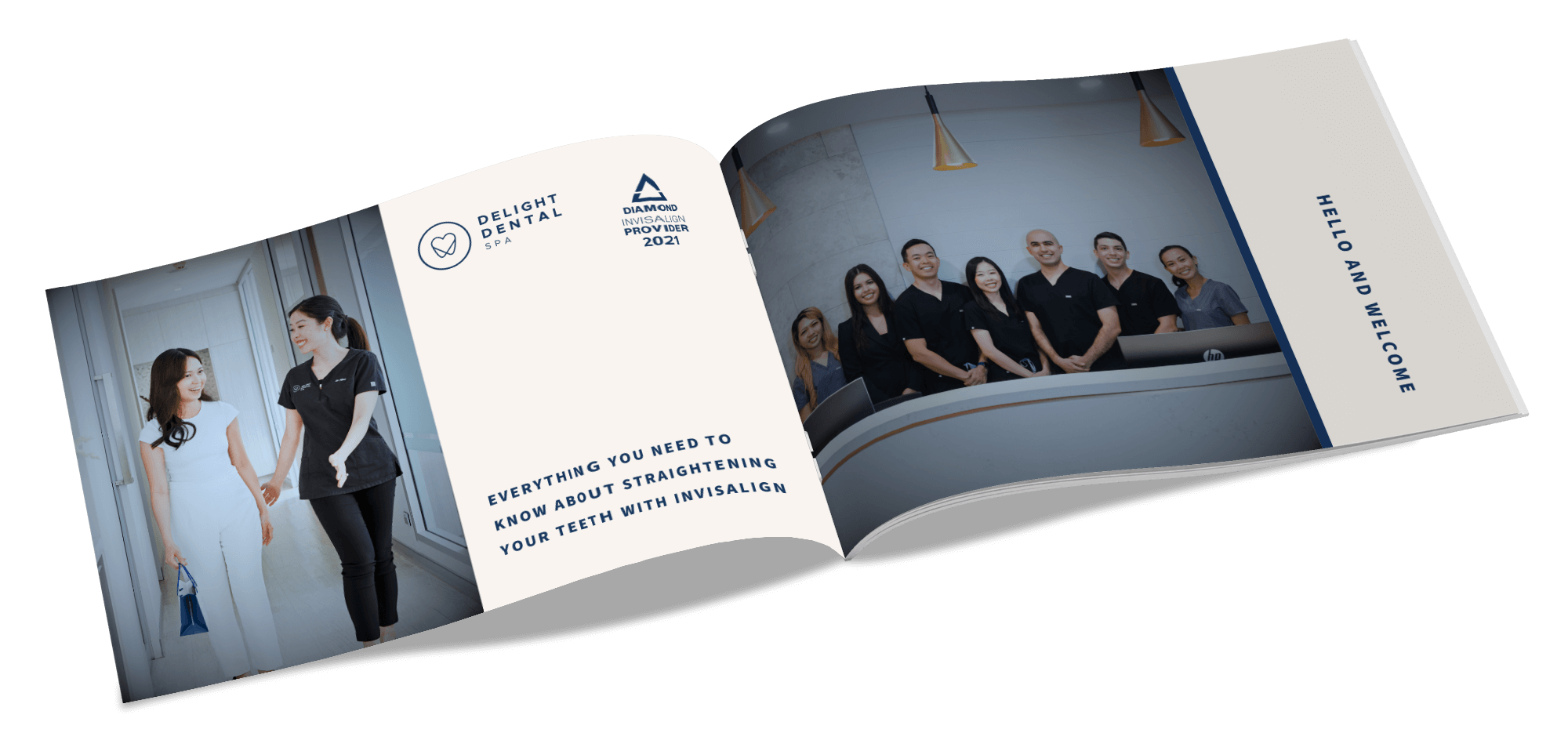 Not Quite Ready to Book? Download Our Invisalign Guide to See Some of Our Patients' Incredible Before and After Transformations.
Frequently Asked Questions
Have a question about invisalign at Delight Dental Spa?
Invisalign vs braces
Invisalign is a comfortable and versatile teeth straightening system that's more discreet than traditional braces. The clear plastic trays move your teeth just 0.1mm each time and are softer on your gums. Also, you can remove your Invisalign aligners when you want to, unlike metal braces. Want to know more? Read our article on Invisalign vs braces here.
How does Invisalign work?
It's a series of clear removable plastic trays (aligners) that fit over your teeth to slowly straighten them. The aligners are custom-made and your dentist checks them every 6-8 weeks as you gradually move your teeth to where you want them.
Can anyone have Invisalign?
Yes, it works on most orthodontic issues like mild-to-severe tooth crowding, an overbite or underbite, tooth gaps and other common tooth straightening problems. It suits most adults and teens, but may not be suitable for severe malocclusions.
How long does Invisalign take?
It depends on how much you want to change your existing smile. It could take anywhere from 4 to 36 months, but a year is the average. Most patients notice a difference within 2-3 months of starting their Invisalign treatment.
Is Invisalign painful?
Invisalign can be a little uncomfortable at the start, but most people get used to the sensation quickly. The gentler pressure means Invisalign is more comfortable than metal braces, and the clear plastic trays are softer on gums.
Do you have reviews?
Medical and health regulations mean we can't display patient testimonials. But you can see Invisalign before-and-after photos on this page. We've also written an article with our top tips for finding Invisalign reviews you can actually trust – read it here. And we can show you more Invisalign results when you come in for your Invisalign consultation. Also, checkout our stellar 5 stars reviews from our Sydney patients on Google.
Affordable And Flexible
Payment Plans Available
Here at Delight Dental Spa, we offer flexible payment plans, ensuring premium dental care remains within reach. We strive to help you smile brighter, faster.

Stay Informed and Inspired
Orthodontic Video Blogs
Watch our Orthodontic video blogs as we dive into topics ranging from Invisalign to Braces, and everything in between. Our aim is to make your journey to an aligned, radiant smile both empowering and comfortable. Tune in for expert advice and a unique glimpse into the Delight Dental Spa experience.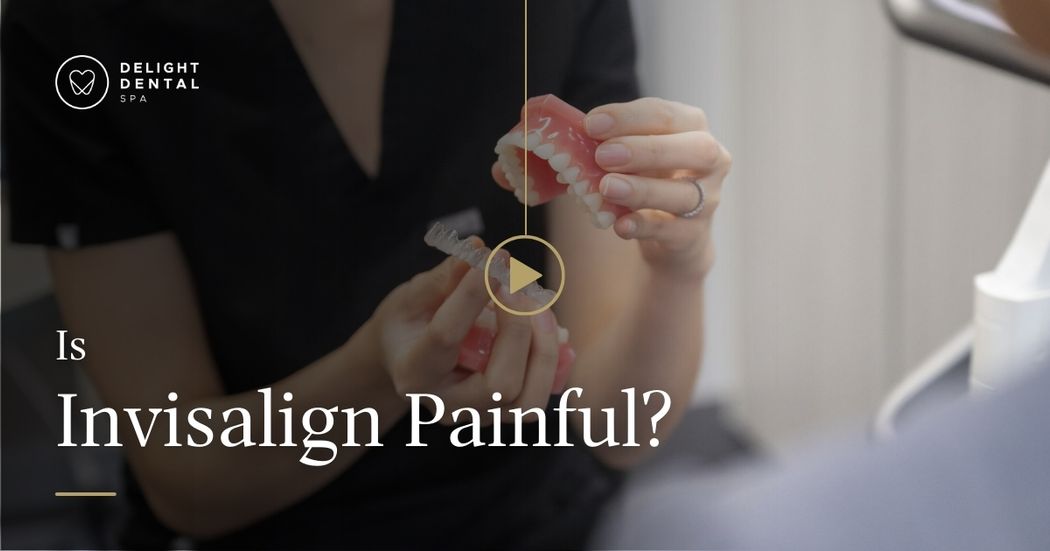 Invisalign is a game-changer in orthodontics. From personal experience and observations, I can...
your ideal smile is just a call away
Start your journey towards beautifully aligned teeth today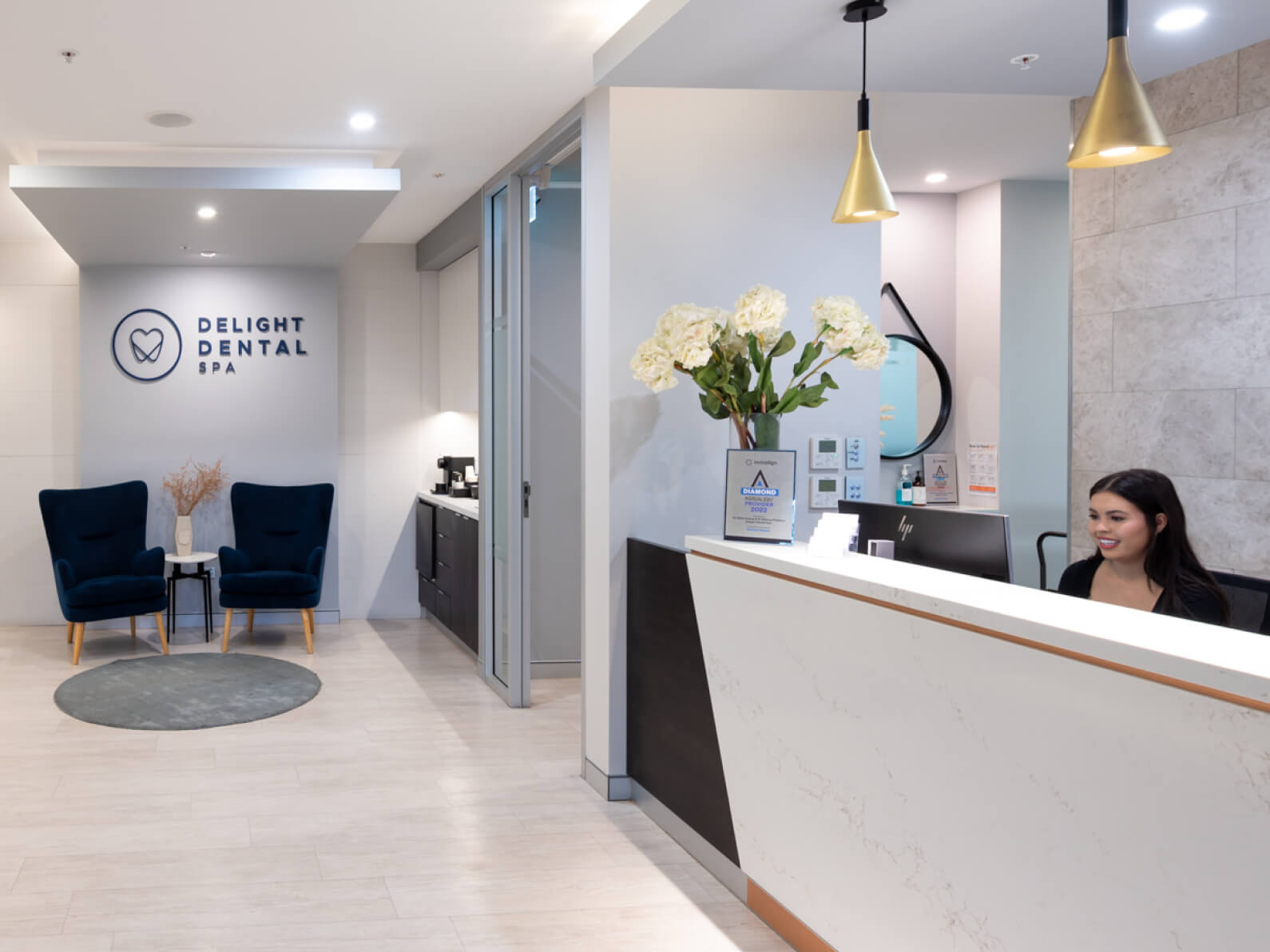 Experience the revolution in teeth straightening with Invisalign. Embrace the convenience and subtlety of these clear aligners, leaving traditional braces in the past. Ready for the journey to your ideal smile? Schedule your consultation today and embark on the path to a straighter, more beautiful grin. The choice is clear – choose Invisalign!
This product is not available for purchase by the general public.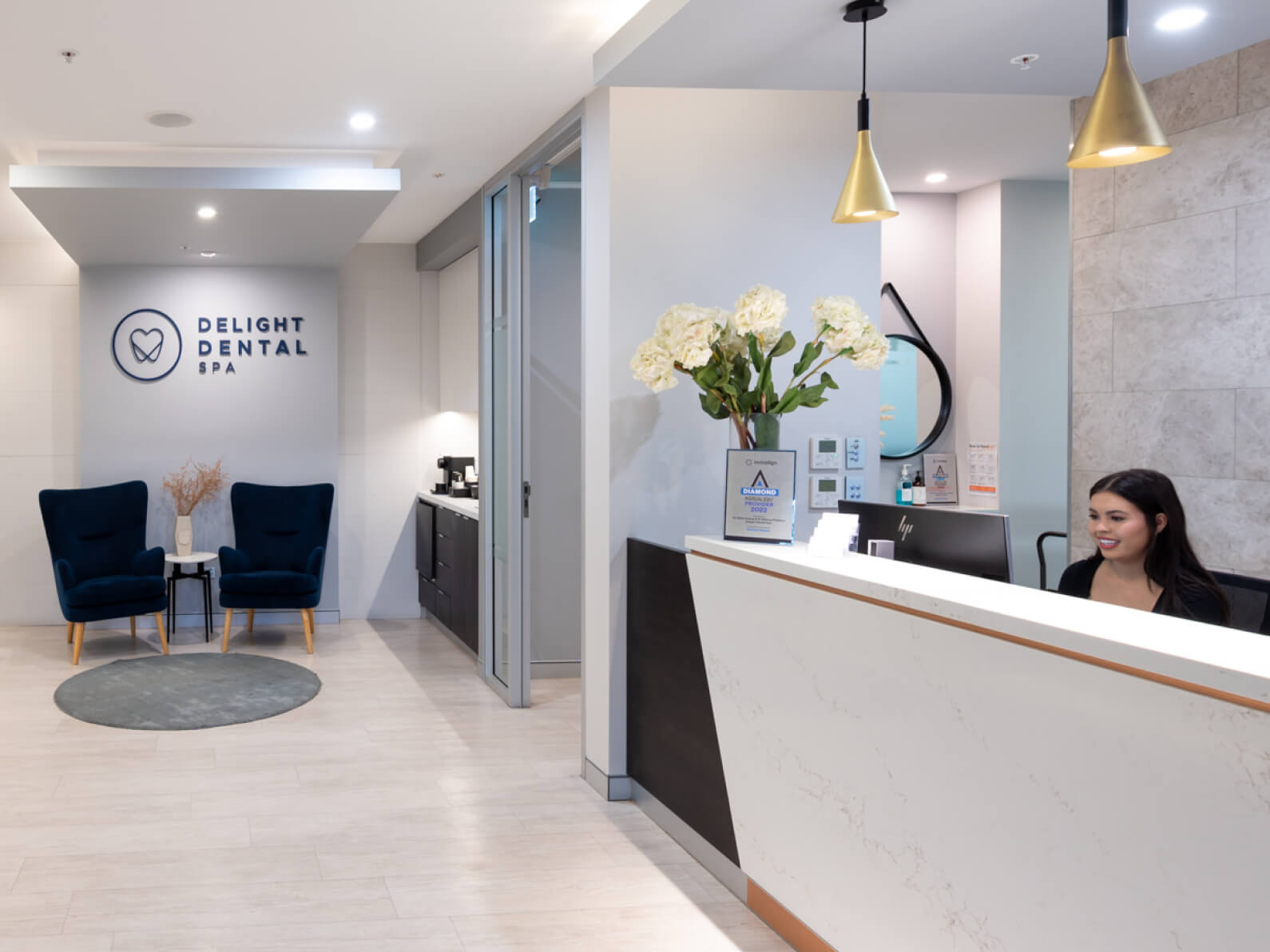 Disclaimer: The material posted is for informational purposes only and is not intended to substitute for professional medical advice, diagnosis or treatment. Results vary with each patient. Any dental procedure carries risks and benefits. If you have any specific questions about any dental and/or medical matter, you should consult your dentist, physician or other professional healthcare providers.
Discover the clear path to a straighter smile
See Our Other Teeth Straightening Treatments