From only $10.57 per tooth per week*
make your everyday interactions more delightful
Porcelain Veneers Mascot, Sydney
Thinking about porcelain veneers because there are things you'd change about your teeth if you could?
Maybe give them a brighter shade, or change their shape? Is there a chip or gap you notice every time you look in the mirror? Are you avoiding selfies or hiding your smile away on Insta?
‍Getting dental veneers can be a big decision.
That's why you want to feel sure they'll make you look great, but not fake. You need to know exactly how they'll turn out.
And at Delight Dental Spa, that's exactly what will happen.
Create Your Dream Smile
Know how you'll look and feel with a wearable trial Smile

At Delight Dental Spa, we use Digital Smile Design software to co-create your dream smile, and then see exactly how it will look on-screen. You can even try a mock-up of your veneers before we begin work.
Co-design your perfect smile and preview the new you straight away
A wearable smile trial means you know how you'll look and feel – before we even start
Expert technicians hand-craft your customised porcelain veneers right here in Australia
Before and After
Our Patient's Transformations
Your Smile Transformation
Porcelain veneers – the best way to create a natural, perfect smile
Your Smile Transformation
Porcelain veneers – the best way to create a natural, perfect smile
Ultra-thin, super-strong 'shells' crafted by hand to seamlessly fit you, dental veneers give your teeth the shape, colour and size you've been dreaming of.
With the help of Digital Smile Design®️ technology, we iron out all the things you don't like about your smile on-screen for a predictable result that's precisely what you wanted.
Once you're happy with the 'new you', we mock-up a model for you to try in.
You'll be able to feel and see exactly what it'll be like to talk, smile and move with your new porcelain veneers.
And we can make any adjustments, so you can trust you'll get the result you expected – no surprises.
Happy PATIENTS, HAPPY SMILES
Our Commitment To You
Welcome to the eloquent expressions of gratitude from our cherished patients at Delight Dental Spa. In this testimonial, you'll glimpse the artistry and precision that define our approach to dental care. Each story is a testament to the transformational power of our services, where both aesthetics and well-being find their rightful place. Explore the journey of radiant smiles and impeccable oral health through the eyes of those who have experienced the epitome of dental excellence with us.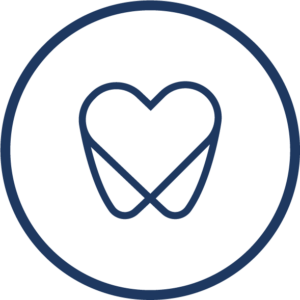 Highly recommended. Dr Alice and her team were simply amazing. The environment is super clean and smiles everywhere. They take a lot of care towards the patients. Did I mention..? They have a TV on the ceiling, how cool is that? It kept me distracted and happy during the procedure. Best Dental clinic in Sydney 😀
Sirisha R.
a step-by-step guide
Porcelain Veneers Process
Three steps to your brand new smile
Come in for your consultation and we'll discuss what you'd like to change about your smile and take digital photos and video.
We'll work up your Digital Smile Design®️ results preview and together – approve your new smile on-screen. If you love it you can even try in a mock-up model.
The final step is to relax in incredible comfort as we prepare your teeth and two weeks later your veneers are carefully fitted and you get the final, fabulous result!
Your Comprehensive Resource
New Patient Guide & Price List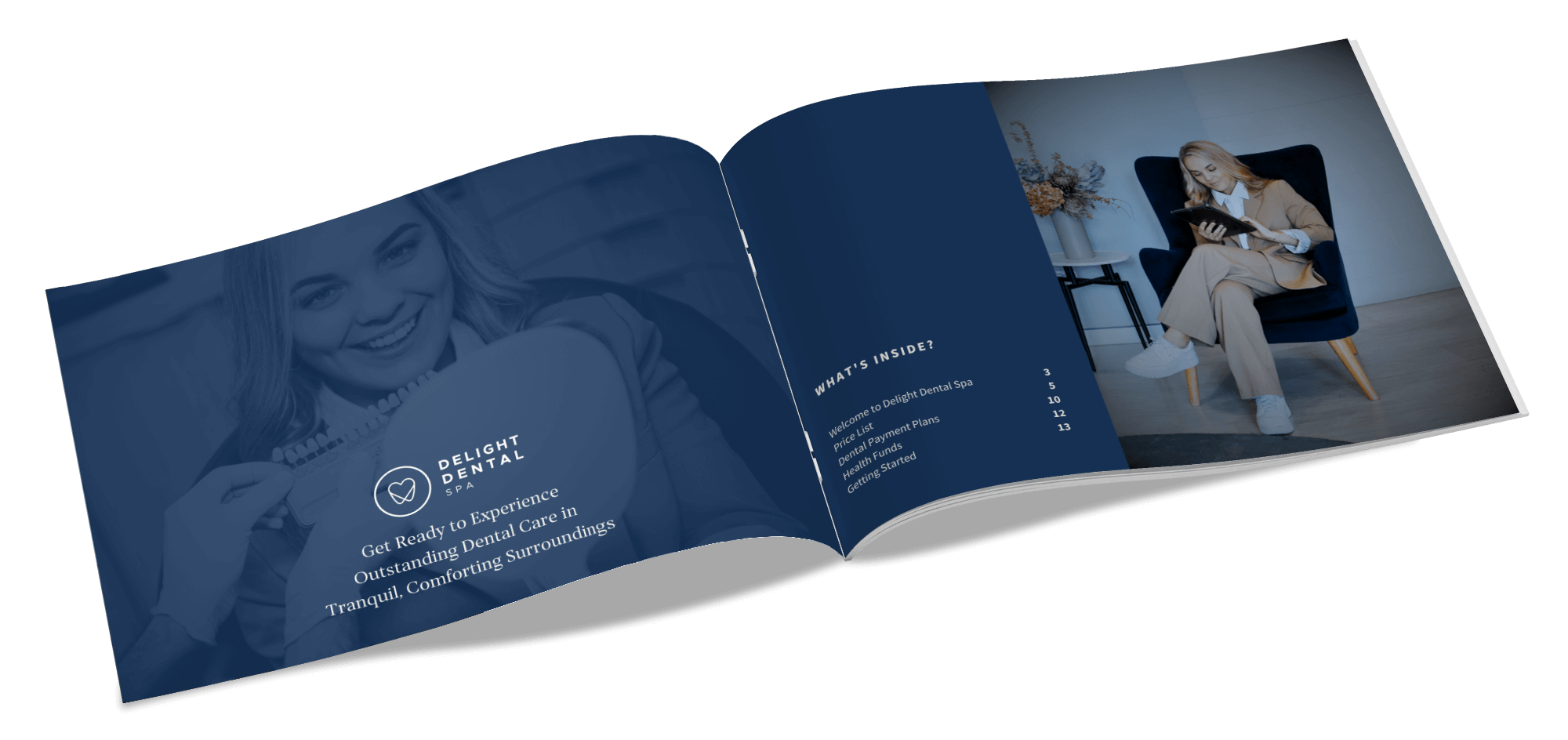 Get All the Information You Need on Pricing, Health Funds and the Application Process for Our Flexible Payment Plans.
Price List
Health Funds
New Patient Form
Dental Payment Plan Options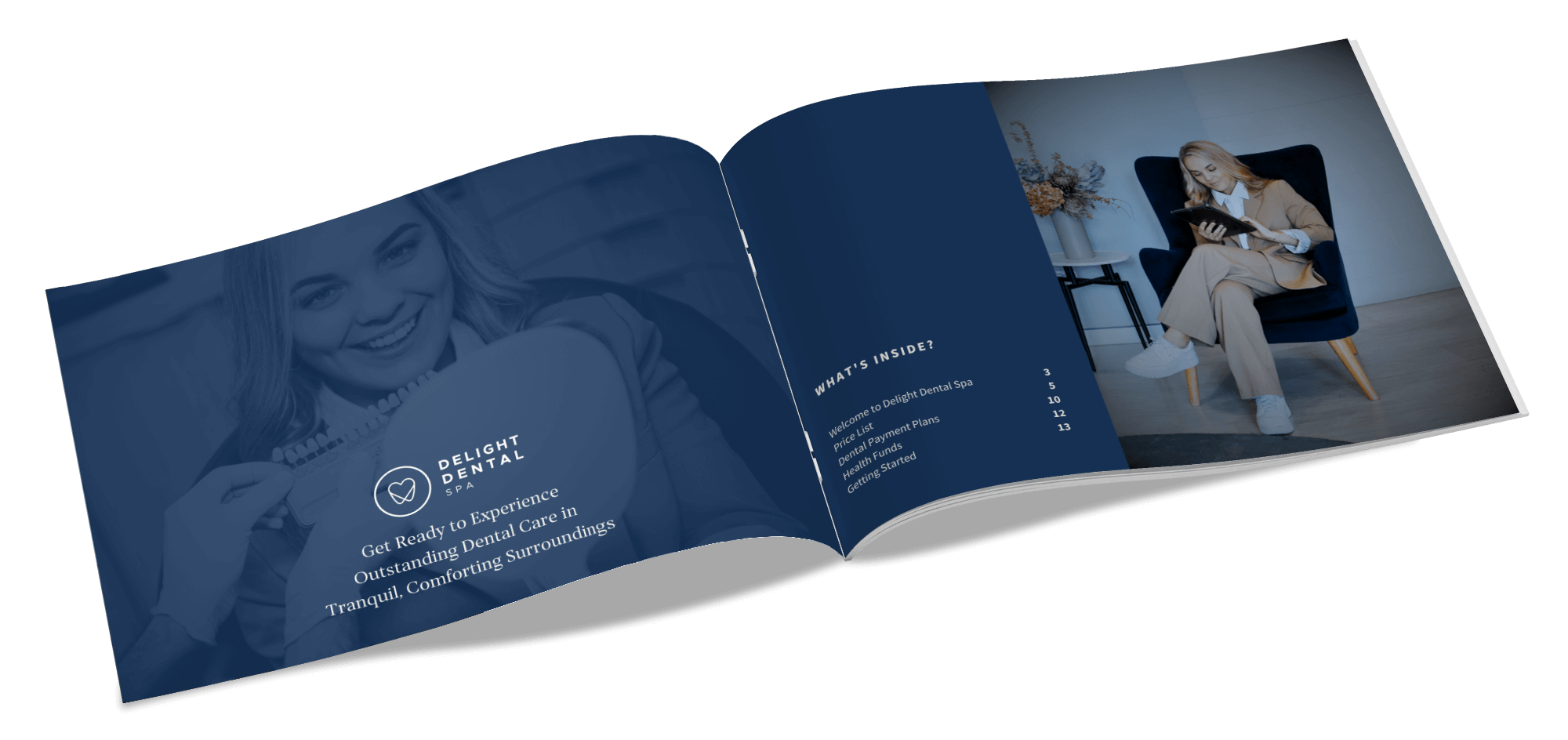 Frequently Asked Questions
Have a question about porcelain veneers at Delight Dental Spa?
What affects the cost of porcelain veneers?
The price of dental veneers in Australia is influenced by the type of veneer (in this case porcelain, which is more expensive than composite veneers) and the number of tooth veneers required.
How long do porcelain veneers last?
Porcelain veneers, when looked after correctly, can last anywhere from 10-20+ years. Looking after your veneers is just like looking after your own teeth, brushing and flossing twice a day to keep them in tip-top shape. We always recommend that you come in for your regular 6-monthly check-up and clean so we can keep an eye on any problems before they occur.
Are dental veneers worth it?
Dental veneers are a very personal decision. They're an investment in your happiness, and it is a good idea to think carefully about whether they are for you. Because the treatment is irreversible, we are committed to taking the extra step of mocking-up your smile before treatment begins. And you can feel assured that you'll know exactly what the end result will be and you will be able to make adjustments until the last stage of the treatment. Also, we will give you all the information you need and answer any questions you have transparently so you are absolutely happy with your decision.
Do you send your porcelain veneers to be made 'offshore' or are they made in Australia?
All of our porcelain veneers are made right here in Australia by a master dental technician.
Can anyone have porcelain veneers?
Your eligibility for veneers depends on your existing tooth structure. And that's why we offer a free consultation; so that, together, we can answer that question and examine all possible treatment options. If there isn't enough existing tooth structure, or you have previous dental work, we may opt for a dental crown. Alternatively, we may decide during the consultation that teeth straightening and/or whitening would be a better option for you.
Affordable And Flexible
Payment Plans Available
Here at Delight Dental Spa, we offer flexible payment plans, ensuring premium dental care remains within reach. We strive to help you smile brighter, faster.

Stay Informed and Inspired
Cosmetic Video Blogs
Watch our cosmetic smile makeover video blogs as we dive into cosmetic topics ranging from Invisalign to Veneers, and everything in between. Our aim is to make your journey to a radiant smile both empowering and comfortable. Tune in for expert advice and a unique glimpse into the Delight Dental Spa experience.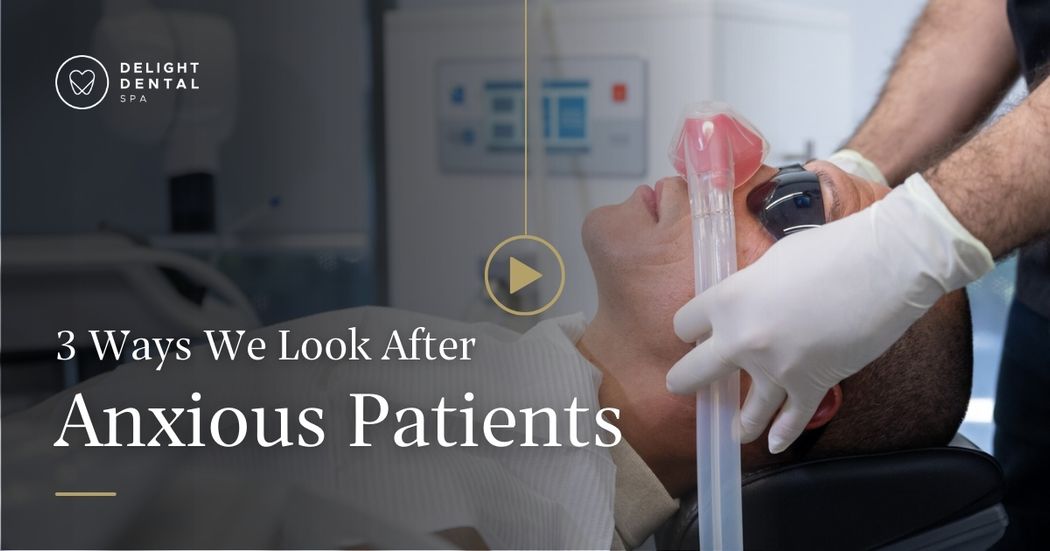 I noticed that some new patients can get very anxious about visiting a dentist for the first time....
Book Your Consultation Now
Revitalise Your Smile with Porcelain Veneers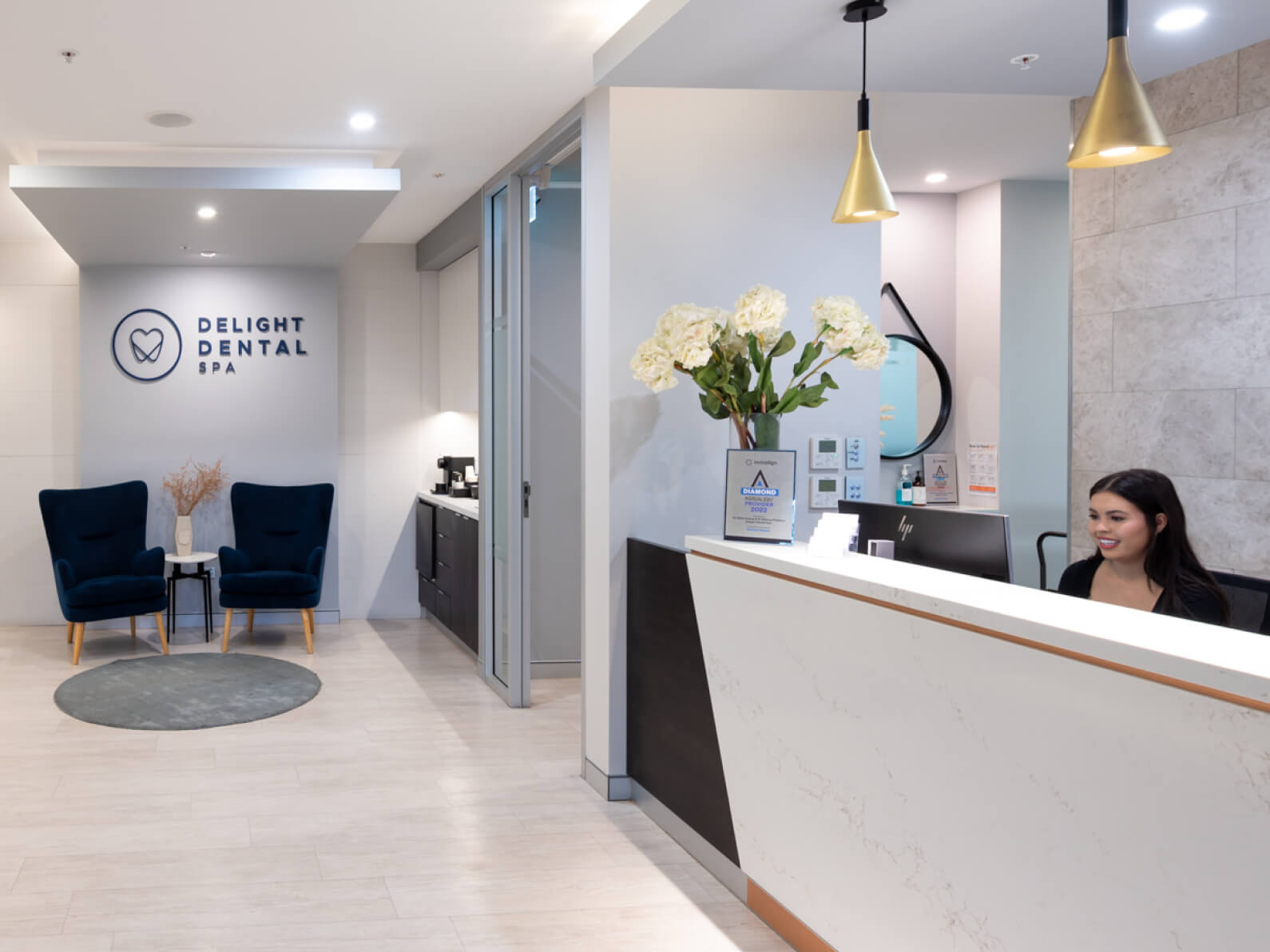 Experience the timeless beauty of porcelain veneers at Delight Dental Spa. Our experts are eager to guide you through this transformative journey.
Take the first step towards a radiant smile by scheduling a consultation today. Discover how porcelain veneers can redefine your teeth, leaving you with a lasting and enchanting result.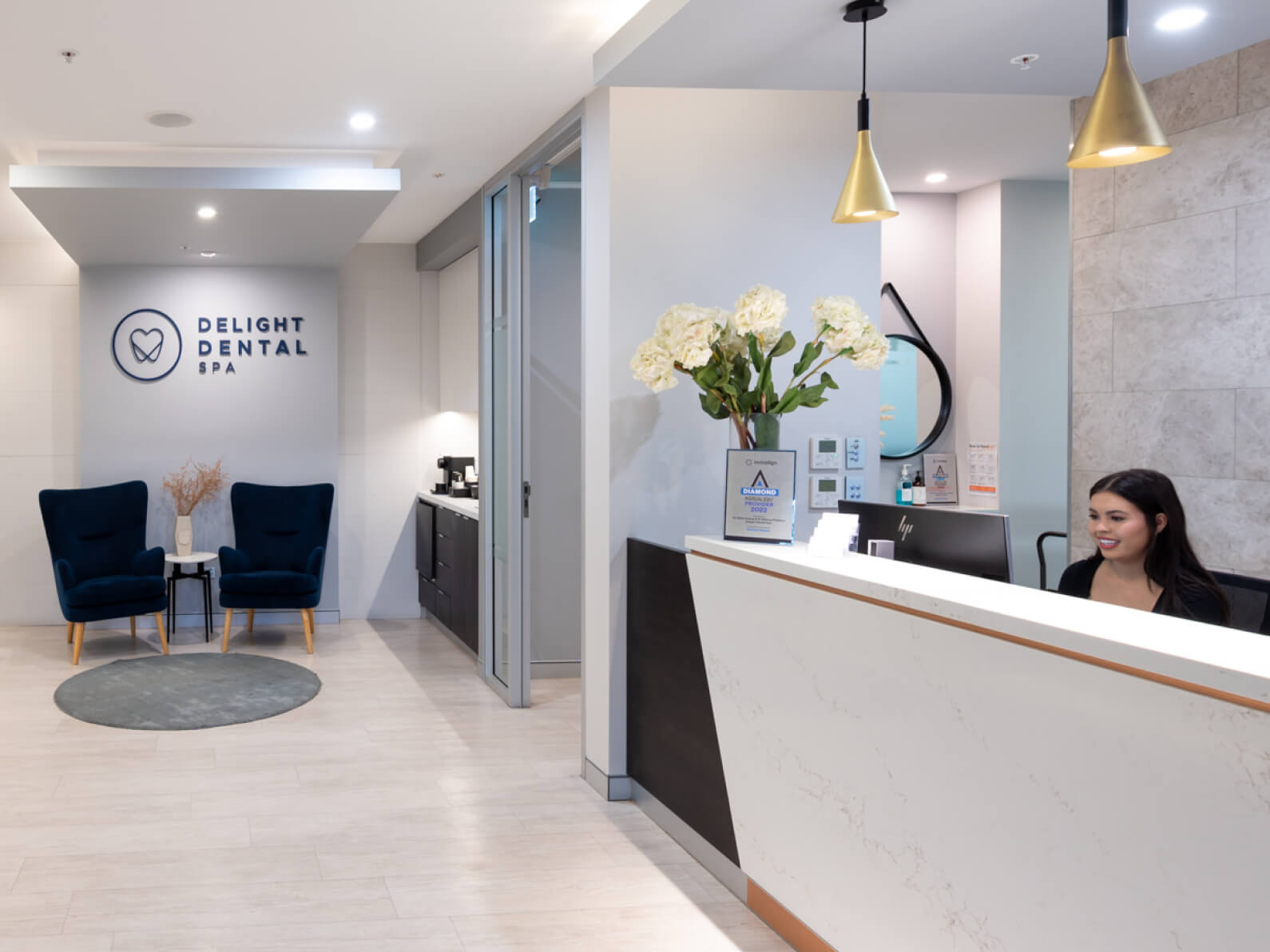 Disclaimer: The material posted is for informational purposes only and is not intended to substitute for professional medical advice, diagnosis or treatment. Results vary with each patient. Any dental procedure carries risks and benefits. If you have any specific questions about any dental and/or medical matter, you should consult your dentist, physician or other professional healthcare providers.
* Subject to credit check and finance approval, excludes fees and charges
Explore Our Cosmetic Options
see Our Other Cosmetic Treatments