make your everyday interactions more delightful
Check Up and Clean Mascot, Sydney
When it comes to dental care, you can embrace a fresh, invigorating approach with us. At the forefront of this paradigm shift, Delight Dental Spa is transforming the way we perceive dental check-ups and cleaning.
Our dental clinic located in Mascot provides a unique and delightful spa-like experience while ensuring your dental health is top-notch.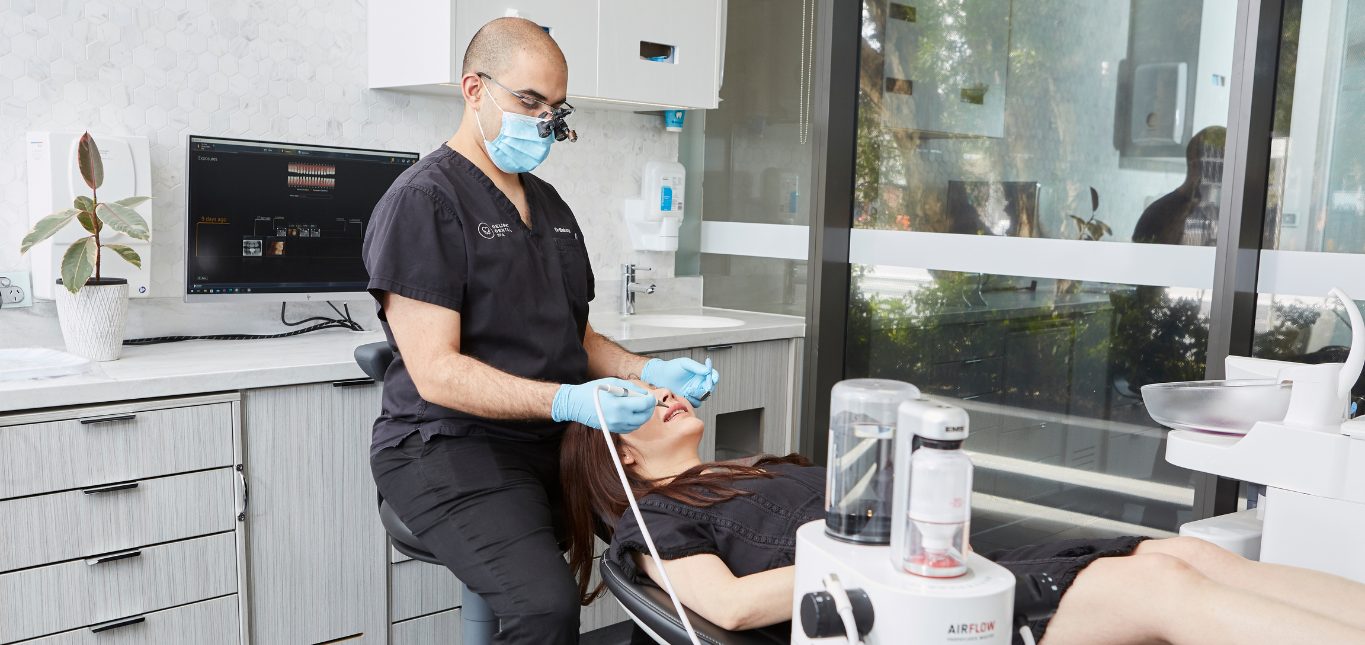 A Clean and Healthy Smile
The Significance of Regular Dental Check-ups and Clean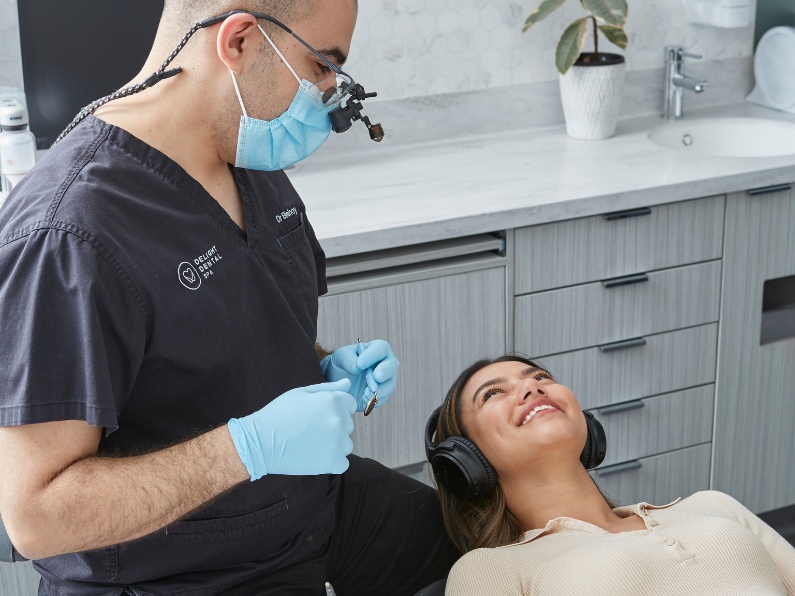 A Clean and Healthy Smile
The Significance of Regular Dental Check-ups and Clean
Maintaining your oral health is crucial for overall well-being, and regular dental check-ups play an integral part in it. Here are some reasons why dental check-ups and cleaning are essential:
Disease Prevention
Routine check-ups can prevent dental issues such as cavities, gum disease, and oral cancer by early detection.
Maintaining Oral Health
Dentists provide guidance on best oral hygiene practices, diet, and other factors impacting your dental health.
Enhancing Positivity
A clean, healthy smile can significantly enhance your mood, making you feel more positive.
a luxurious experience
The Delight Dental Spa check-up and clean – More Than Just Dental Care
A check-up and clean at Delight Dental Spa isn't just about maintaining your dental health; it's an experience of tranquility and luxury.
A Warm and Luxurious Welcome
Your journey at Delight Dental Spa begins with a warm welcome in a relaxing ambience, setting the tone for the rest of your visit.
Comprehensive Examination
Each check-up at Delight Dental Spa includes:
A complete assessment of your dental health history
A visual inspection of your teeth and gums
3D X-rays (if necessary at additional cost)
A detailed treatment plan (if required)
Following the examination, our dentists will conduct a professional cleaning which includes:
Removal of plaque and tartar
As part of our commitment to providing a relaxing environment, we offer:
Netflix streaming during treatment
Scented refresher towels post-treatment
Happy PATIENTS, HAPPY SMILES
Our Commitment To You
Welcome to the eloquent expressions of gratitude from our cherished patients at Delight Dental Spa. In this testimonial, you'll glimpse the artistry and precision that define our approach to dental care. Each story is a testament to the transformational power of our services, where both aesthetics and well-being find their rightful place. Explore the journey of radiant smiles and impeccable oral health through the eyes of those who have experienced the epitome of dental excellence with us.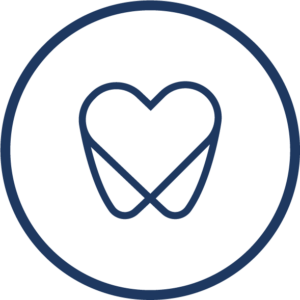 Just finished my second appointment with Dr Bishoy today and like the last time, I had a very pleasant experience. They always do their best to make you feel comfortable and are always very kind. Shaira and the rest of the staff are very friendly and you won't hesitate to ask any questions. It's a really great dental spa and would 100% recommend it to anyone.
Abigail B.
get a professional dental care
Cost of a New Patient Dental Check-Up at Delight Dental Spa
Experience exceptional dental care without breaking the bank. Our new patient's dental check-up, complete with a comprehensive examination and professional cleaning.
Frequently Asked Questions
Your Questions Answered
How often should I schedule a dental check-up?
It is generally recommended to schedule a dental check-up every six months. Depending on your specific oral health conditions, your dentist might suggest more frequent visits.
Is the dental check-up at Delight Dental Spa painful?
At Delight Dental Spa, we prioritise your comfort. Our modern equipment and relaxing atmosphere work together to ensure a virtually spa-like experience.
Can I schedule a dental check-up even if I don't have any dental issues?
Absolutely. Regular dental check-ups are an integral part of maintaining good oral health and can help detect potential problems early on.
Your Comprehensive Resource
New Patient Guide & Price List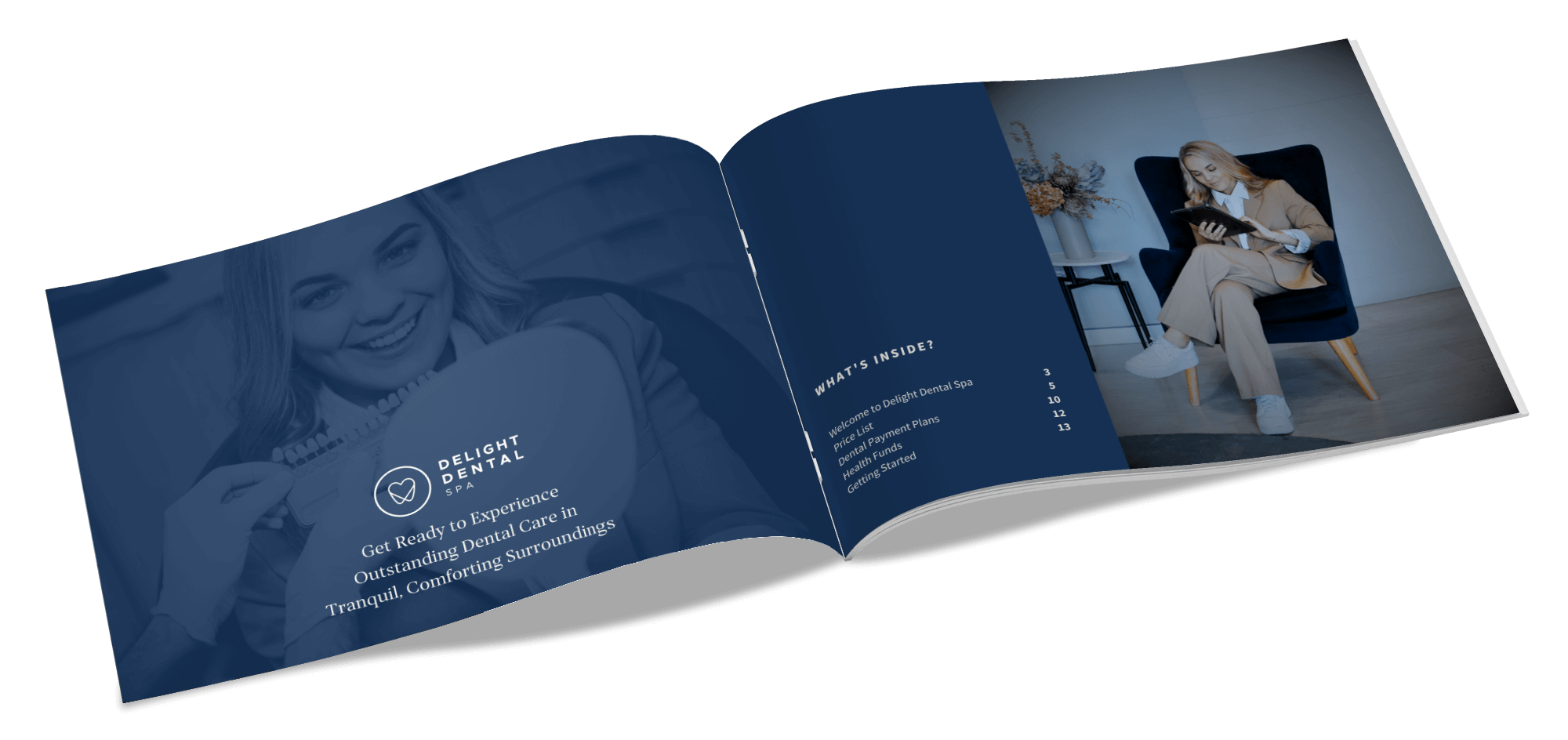 Get All the Information You Need on Pricing, Health Funds and the Application Process for Our Flexible Payment Plans.
Price List
Health Funds
New Patient Form
Dental Payment Plan Options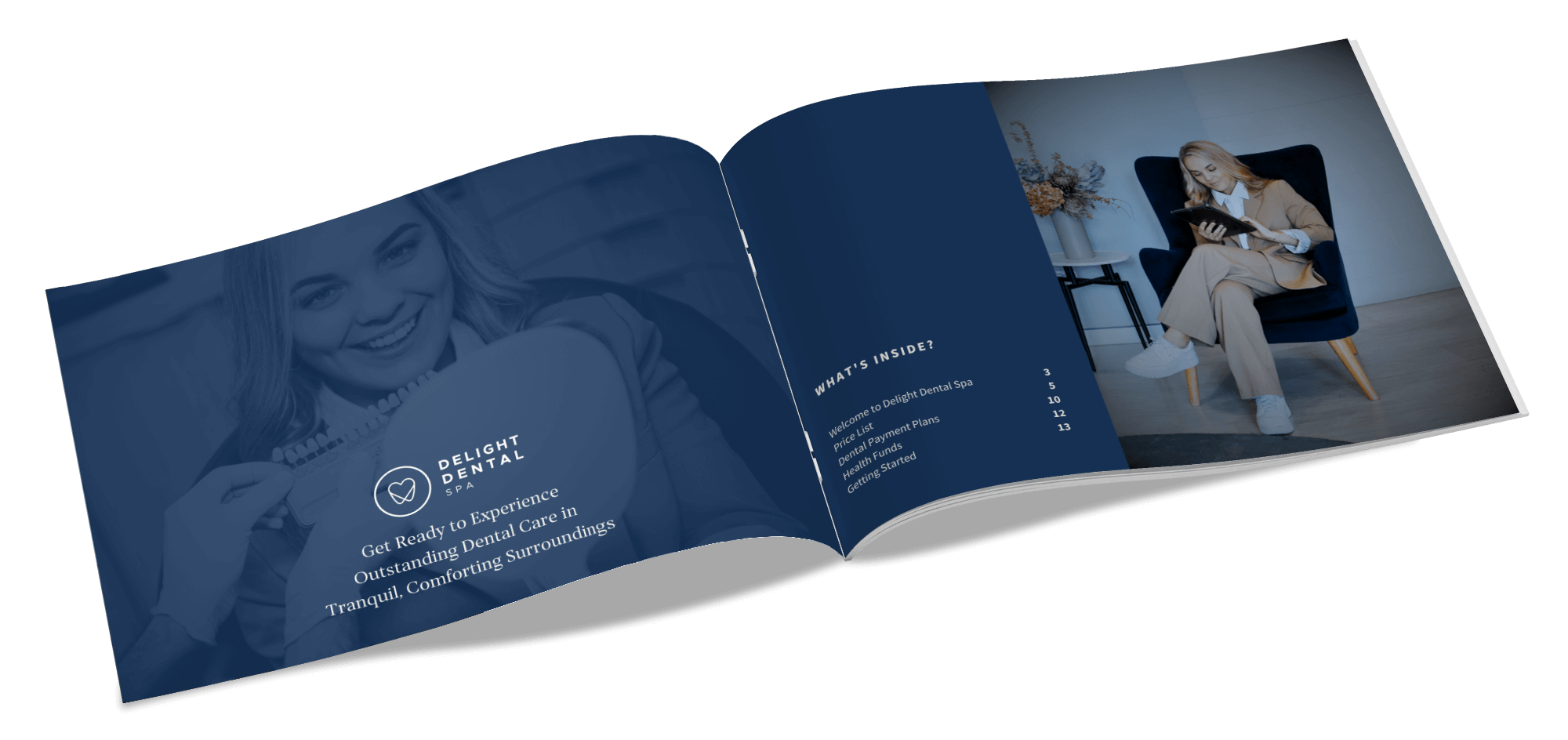 experience comfort and luxury
Why Choose Delight Dental Spa for Your Dental Check-Up and Clean?
When you choose Delight Dental Spa for your dental check-ups, you're signing up for a unique blend of comprehensive dental care and a luxurious spa-like experience.
Qualified and Experienced Staff
Our team of experienced and highly qualified dental professionals is committed to ensuring you receive the highest standard dental care. They are well-versed in handling various dental concerns and are dedicated to helping you maintain excellent oral health.
State-of-the-Art Equipment
We employ the latest dental technology and equipment for diagnosis and treatment. Our modern equipment allows for more accurate diagnoses, effective treatment plans, and comfortable procedures.
Personalised Dental Care
Every patient is unique, and so are their dental needs. At Delight Dental Spa, we provide personalised dental care tailored to your specific needs. Our team takes the time to understand your dental health, lifestyle, and goals to create a customised treatment plan.
Comfort and Luxury
What sets us apart is our commitment to providing a luxurious, spa-like experience. Our amenities, like massaging dental chairs, Netflix streaming during treatment, and aromatherapy, coupled with our warm and friendly staff, ensure you have a comfortable and relaxing visit.
Affordable And Flexible
Payment Plans Available
Here at Delight Dental Spa, we offer flexible payment plans, ensuring premium dental care remains within reach. We strive to help you smile brighter, faster.

Get More related services
see Our Other General Treatments
achieve your dental goals
Taking The Next Step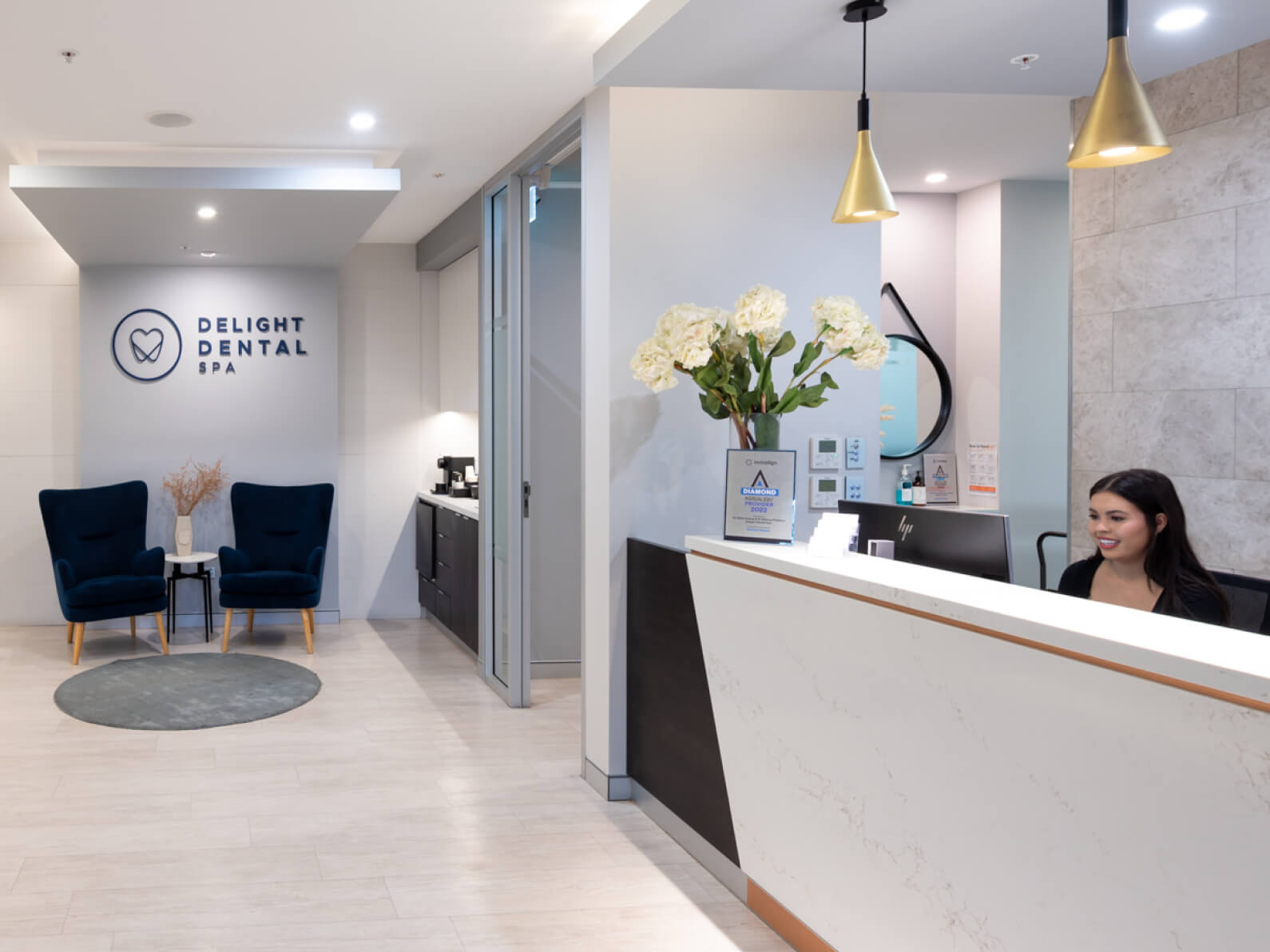 If you have been postponing your dental check-up due to fear or simply the mundane nature of dental visits, it's time to reconsider. At Delight Dental Spa, we're not just about dental health; we're about your overall experience. A dental check-up with us feels less like a chore and more like a day at the spa.
Are you ready to transform your perception of dental check-ups and embrace a new, exciting approach to oral health? Book your appointment at Delight Dental Spa today and experience the difference.
Remember, your smile is the most powerful human gesture, and taking care of it starts with regular dental check-ups. At Delight Dental Spa, we make that easy, enjoyable, and absolutely delightful!
Don't let your oral health take a backseat. Contact us for any further queries about our dental check-up and cleaning services, or book your appointment online. We can't wait to meet you and offer you the best dental care experience in Mascot!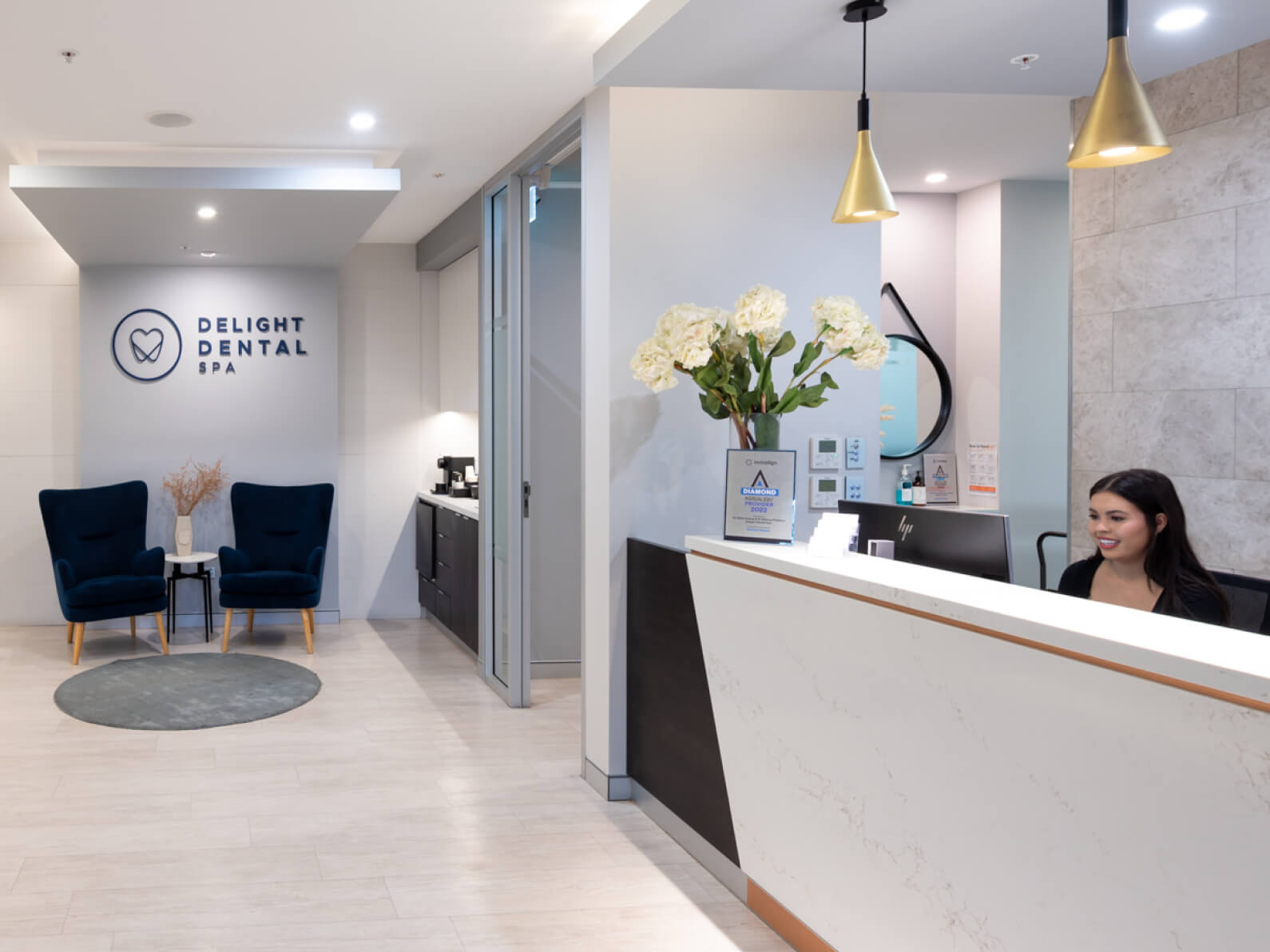 Disclaimer: The material posted is for informational purposes only and is not intended to substitute for professional medical advice, diagnosis or treatment. Results vary with each patient. Any dental procedure carries risks and benefits. If you have any specific questions about any dental and/or medical matter, you should consult your dentist, physician or other professional healthcare providers.
Stay Informed and Inspired
General Dentistry Video Blogs
Watch our patients' awareness blog as we dive into dental topics ranging from preventive tips to the latest advancements in cosmetic dentistry. Our aim is to make your journey to a radiant smile both empowering and comfortable. Tune in for expert advice and a unique glimpse into Sydney's Delight Dental Spa experience.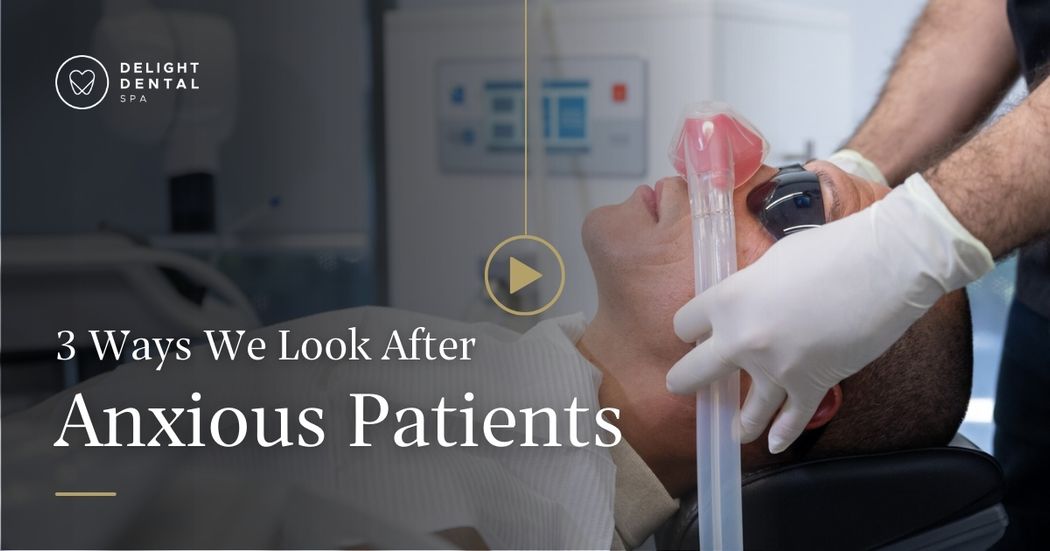 I noticed that some new patients can get very anxious about visiting a dentist for the first time....