Hana of Mascot's Invisalign, Teeth Whitening and Composite Bonding Makeover
Hana of Mascot's Invisalign, Teeth Whitening and Composite Bonding Makeover
Hana's journey with Delight Dental Spa was born from her determination to overcome persistent dental challenges and achieve a radiant smile. As she arrived at our practice, the hurdles she faced regarding her dental issues became immediately apparent. These challenges catalysed a transformative journey that would address her specific concerns and exemplify the exceptional care and expertise that define Delight Dental Spa.
What Were The Issues With Her Existing Teeth
Misaligned teeth affecting her bite.
Discolouration and staining.
Uneven tooth spacing and irregularities.
What We Did for Her Smile Makeover
Teeth Whitening
Composite Bonding
Following her journey with Delight Dental Spa, Hana's smile underwent a remarkable transformation, achieving results that exceeded her expectations:
Hana's once misaligned teeth were now harmoniously aligned, ensuring optimal bite functionality. The teeth whitening treatment had effectively erased all signs of discolouration, restoring her teeth to their natural brilliance. The six composite bonding applications expertly resolved tooth spacing issues and irregularities, resulting in a seamless and aesthetically pleasing smile.
Hana was delighted with the outcome of her treatments, her happiness evident in her radiant smile. Her journey with Delight Dental Spa improved her oral health and provided her with a beautifully enhanced smile.
If you want to enhance your smile and address dental issues like Hana did, Delight Dental Spa is here to help. We would love to look after you here at Delight Dental Spa. Simply complete the form on our website, call us on (02) 9167 3973, or direct message us via social media, and our friendly team will be in touch to help you organise your consultation.
Book Your Invisalign Consultation Today
Ready to Make Your Dream Smile a Reality?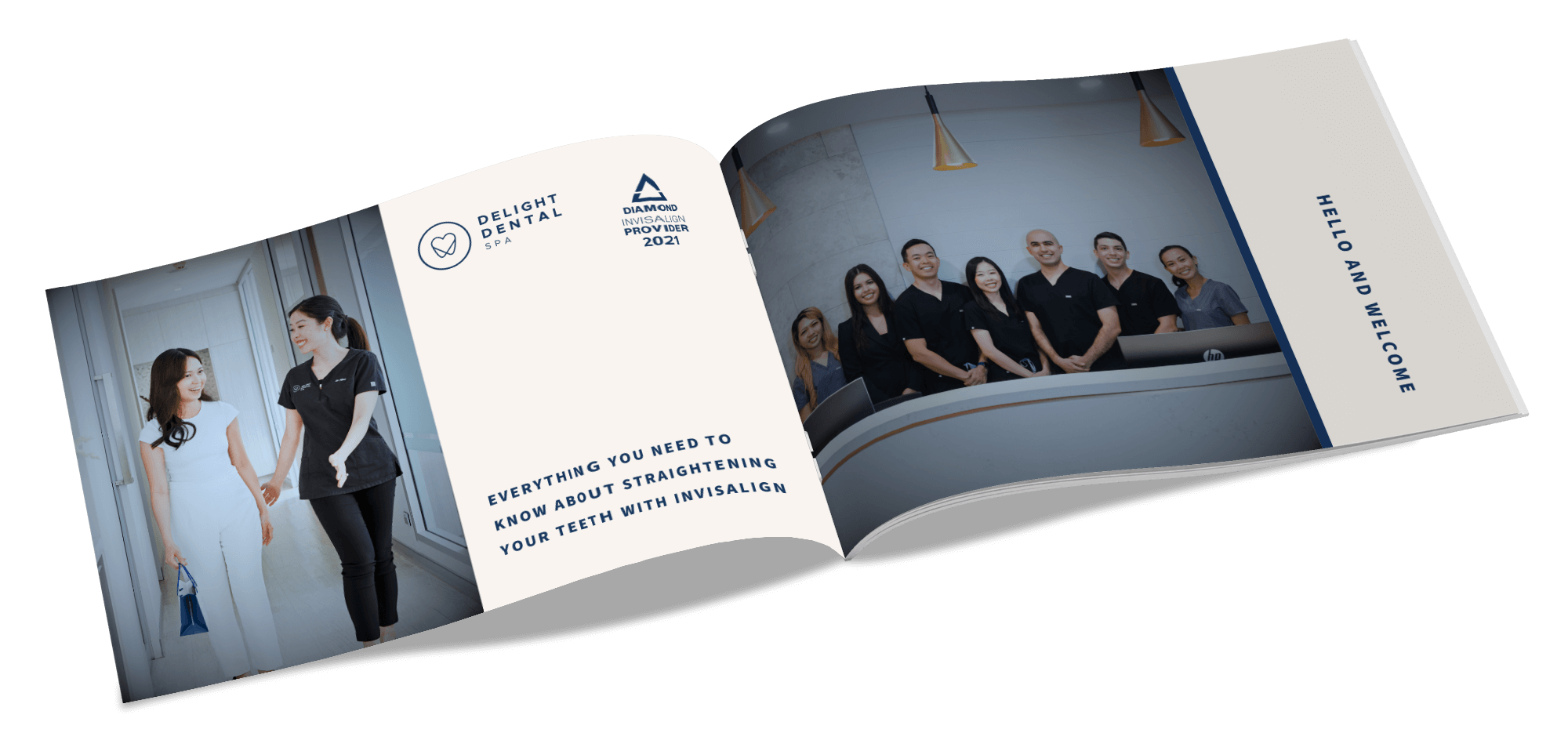 Not Quite Ready to Book? Download Our Invisalign Guide to See Some of Our Patients' Incredible Before and After Transformations.
AFFORDABLE AND FLEXIBLE
Payment Plans Available
Here at Delight Dental Spa, we offer flexible payment plans, ensuring premium dental care remains within reach. We strive to help you smile brighter, faster.

Disclaimer: The material posted is for informational purposes only and is not intended to substitute for professional medical advice, diagnosis or treatment. Results vary with each patient. Any dental procedure carries risks and benefits. If you have any specific questions about any dental and/or medical matter, you should consult your dentist, physician or other professional healthcare providers.
DENTAL TREATMENTS
Services We Mentioned:
REAL PATIENTS, REAL STORIES
More Client Journeys