Everything You Need to Know About Invisalign Attachments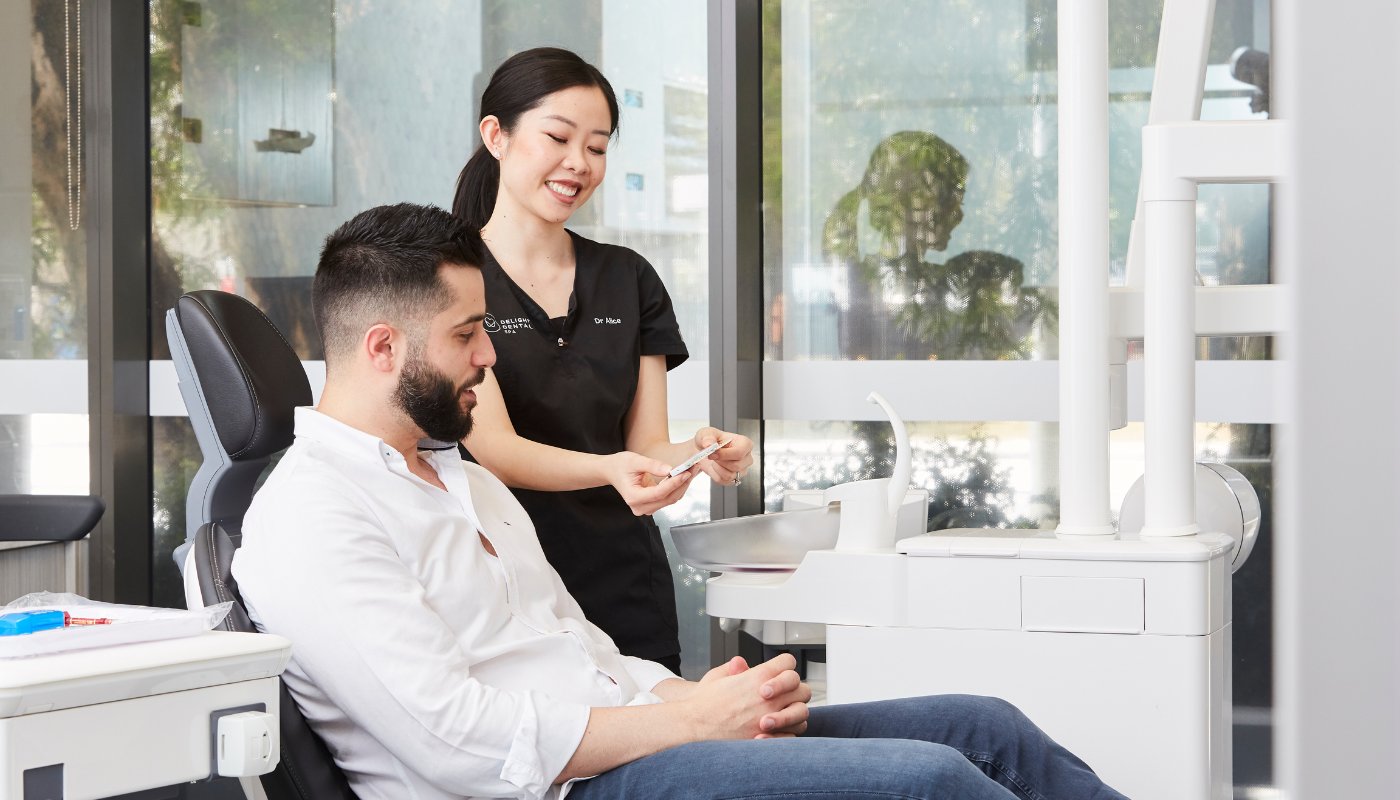 So, you're thinking about perfecting your pearly whites with Invisalign — and why not?
Invisalign offers an effective and discreet way to straighten your smile. Plus, the removable, clear aligner trays provide a lot more freedom and flexibility to suit your lifestyle. Win!
But did you know Invisalign aligner trays don't always work their magic alone?
Sometimes they need a *little* extra help from Invisalign attachments (also called buttons) and elastics.
These little buttons and rubber bands pack a lot of power. They enable your aligners to wrangle even the most troublesome teeth and bite corrections.
Want to learn more? Let's dive into what Invisalign attachments are, how they work and why you might need them during your treatment.
Want more personalised advice on whether Invisalign is right for you? Book in your consultation at Delight Dental Spa!
What Are Invisalign Attachments?
Invisalign aligners are pretty powerful. But sometimes they cannot accomplish certain alignment changes on their own due to the size, shape or angle of a tooth.
This is where Invisalign attachments step in and shine. Invisalign attachments are tiny, tooth-coloured buttons or bumps that are bonded to your teeth using dental composites. The buttons are placed at precise locations to give the aligners extra grip on the teeth as they move them into position. They are also used to attach and anchor Invisalign elastics to your teeth for added (gentle) force.
‍Invisalign attachments come in all kinds of shapes — circular, rectangular, square and triangular. Your dentist will determine which type of attachment your teeth need to address your specific alignment issues, such as tooth rotation, intrusion, extrusion or bite correction.
How Do Invisalign Attachments Work?
If you've been looking into Invisalign, you're likely up to speed on how Invisalign works. But you may be curious about how Invisalign attachments work and why you might need them.
Let's say you've got a rotated tooth. It can be difficult for your aligner tray to apply the right amount of pressure to move the tooth into the correct position on its own. An Invisalign attachment essentially works as an anchor point to better direct the force of the aligner and help it move your teeth more effectively.
Invisalign attachments or buttons are generally placed in the middle of the tooth and allow your aligners to fit more securely against your teeth. Since the attachments click into your aligners at designated spots, this can make your trays a little trickier to put in and take out.
What About Invisalign Elastics?
When undergoing Invisalign treatment, the aim of the game isn't *just* to straighten your smile. You also want to ensure your bite is correctly aligned too.
In fact, one of the common questions we get asked by our Invisalign patients at our Mascot clinic is: "Can Invisalign correct an overbite?"
This is where Invisalign elastics or rubber bands come in. These small, discreet elastics help to guide your bite into the right position, properly aligning your upper and lower teeth. With the help of rubber bands, Invisalign can effectively correct an overbite or underbite.
Invisalign rubber bands are attached to your teeth using a special hook or anchor that is built into your aligner tray or by connecting to your attachments. For bite corrections, your dentist will generally get you to wear two rubber bands — one on each side of your mouth. These will usually be connected to a lower molar and an upper eye tooth.
Check out this Invisalign overbite before and after pic of one of our patients.

Invisalign aligners and attachments helped our gorgeous patient correct her overbite.
How Are Invisalign Attachments Or Buttons Attached And Removed From My Teeth?
The good news? Placing and removing Invisalign attachments or buttons is super quick and easy!
Here's How the Whole Process Works: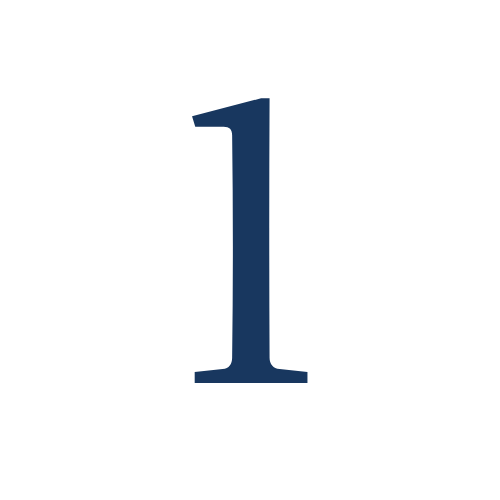 Your dentist will prep and clean the surface of your tooth for bonding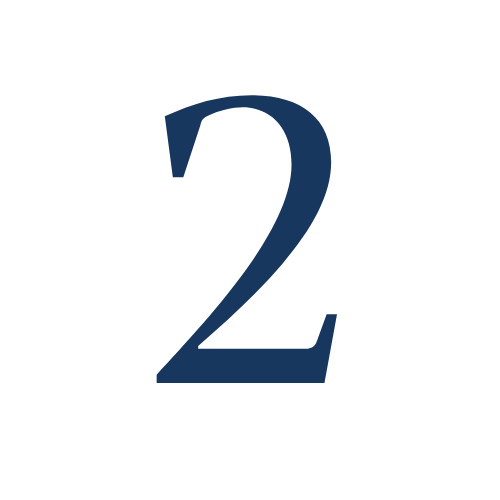 An Invisalign template is used to mark the exact locations of the attachments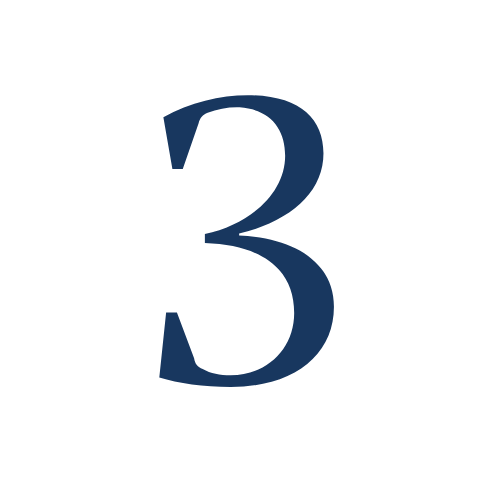 The bonding material will be placed in the specially marked template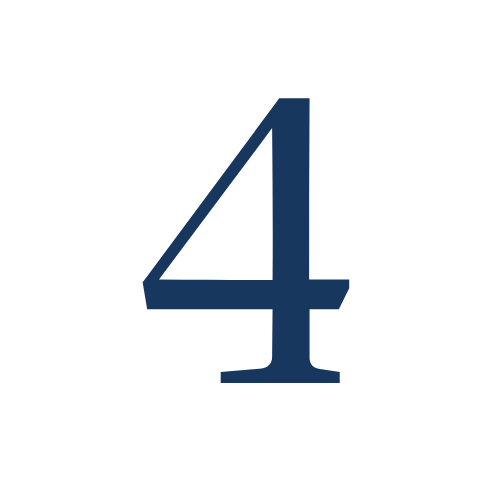 A special light will be used to cure the button so it becomes hard and stays in place
When the button is no longer needed, it will be gently buffed off your tooth.
Book Your Invisalign Consultation Today
Ready to Make Your Dream Smile a Reality?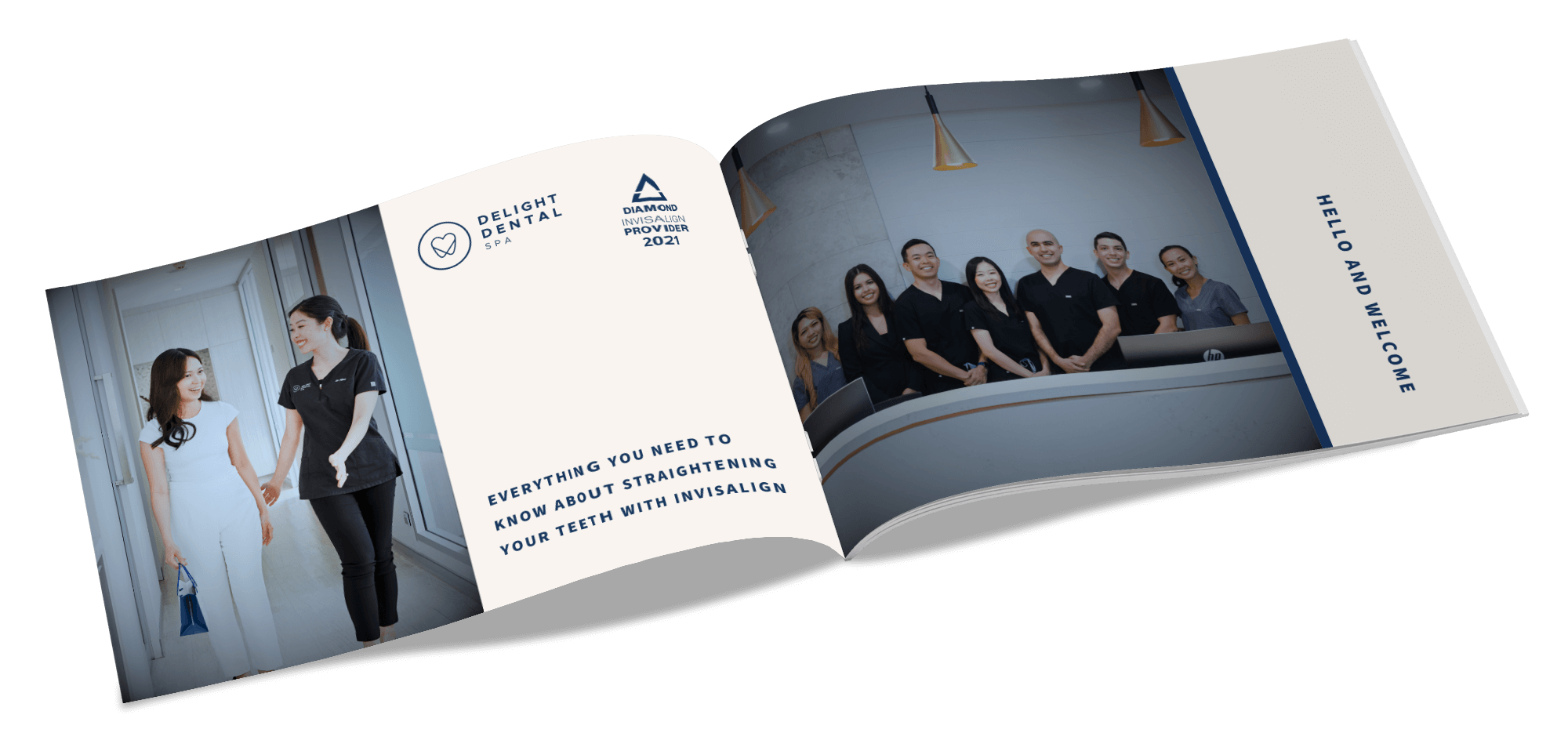 Not Quite Ready to Book? Download Our Invisalign Guide to See Some of Our Patients' Incredible Before and After Transformations.
How Many Invisalign Attachments Will I Need?
Your dentist will determine the number of Invisalign attachments or buttons you'll need to achieve your dream smile. They'll also be able to let you know if you'll need to use Invisalign elastics along the way.
Rest assured that if you do need buttons, they may not be necessary for the entirety of your treatment.
Depending on the complexity of your case, you may not need any attachments at all! If your case is less severe and you only need minor realignments, your Invisalign aligners may be able to do all the work on their own.
You may even be eligible for Invisalign Express, which means your treatment time will be a lot quicker than the full Invisalign treatment. The Express treatments use fewer sets of aligner trays and treatment time is generally around 3 to 6 months. By comparison, the full Invisalign treatment can typically last anywhere from 6 months to 36 months.
Are Invisalign Attachments Noticeable?
Your dentist will try to match the shade of your attachments as closely as possible to your natural tooth colour to help them blend in.
While Invisalign buttons aim to be as discreet as possible, sometimes they are still noticeable on your teeth. For instance, if you need attachments on your front teeth, they'll likely be more obvious than attachments on the teeth further back.
But let's face it — Invisalign aligners and attachments are always going to be *much* more discreet than traditional metal braces, right?
Your discreet Invisalign aligner trays and attachments mean you can flash your pearly whites with confidence throughout your entire treatment!
Give It To Me Straight — What Are The Downsides Of Invisalign Attachments?
Invisalign attachments help to make your treatment faster, more effective and more predictable. But we'll admit. The attachments aren't all sunshine and straight teeth.
Attachments Can Make It Tricky To Put In Your Aligner Trays
Since the attachments click into your aligners at specific spots, they can make putting in and taking out your trays a little more difficult. It can take a little practice to get it right.
Attachments Can Be Uncomfortable
Invisalign attachments do not sit smoothly on your teeth, so they may irritate the inside of your cheeks and lips when you're not wearing your aligners. Fortunately, when your aligners are in, they will provide a smooth layer over the top.
You Need To Be *Extra* Careful When Brushing And Flossing
With your buttons firmly fixed on your teeth, you'll now have more areas where food and other nasties can get stuck. You'll need to be extra careful when brushing and flossing your teeth to ensure you've thoroughly cleaned around your attachments.
What Are Invisalign Chewies and How Do I Use Them?
Another important part of your Invisalign journey comes in the form of Invisalign chewies.
Chewies are small, soft chewing devices made of spongy plastic material. They are designed to help you eliminate the air space between your Invisalign aligner and your tooth for a proper, snug fit. Aligner chewies come in a range of colours and flavours, but the white unflavoured variety is the most popular.
How Do You Use Invisalign Chewies?
Invisalign chewies should be used at least twice a day — usually when you are putting your aligner trays back in after eating.
How to Use Your Invisalign Chewie: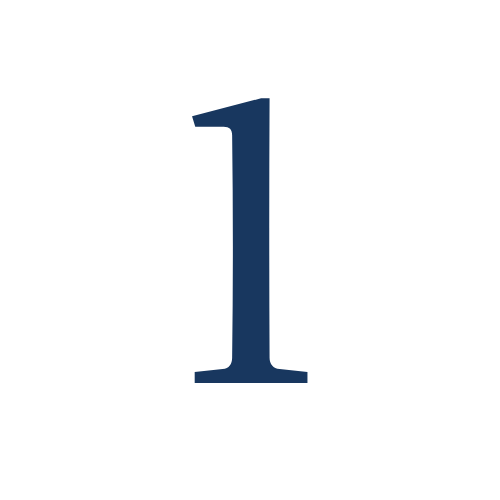 Pop your Invisalign trays over your teeth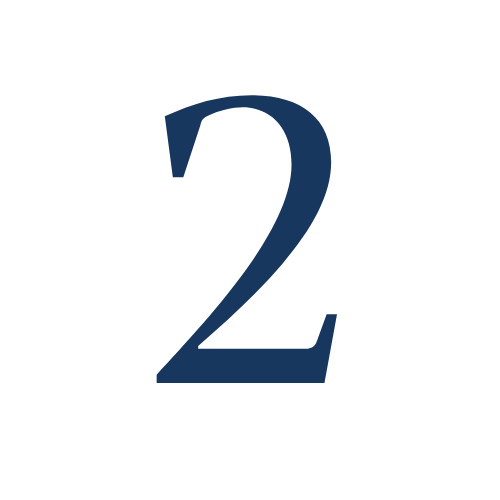 Position the chewie between your teeth and bite down firmly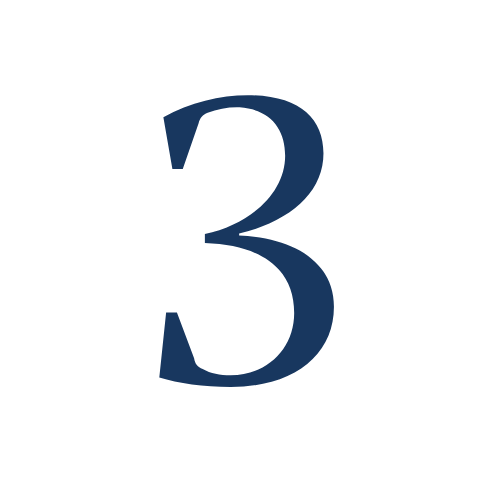 Move the chewie from one side of your mouth to the other, biting up and down as you go, ensuring you have bitten on it with all of your teeth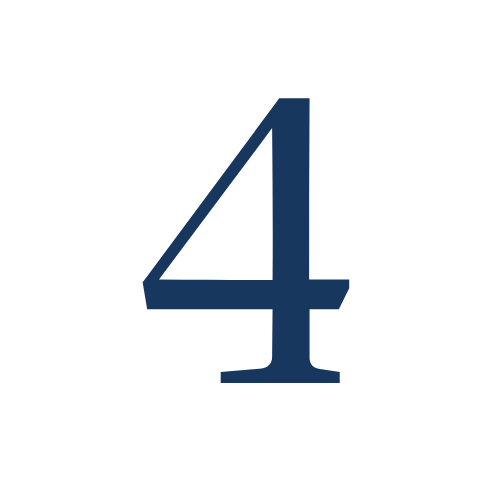 Repeat a second time to ensure your Invisalign aligners are firmly seated on your teeth
Once finished, you can pop your chewie back into your Invisalign case and carry it with you throughout the day.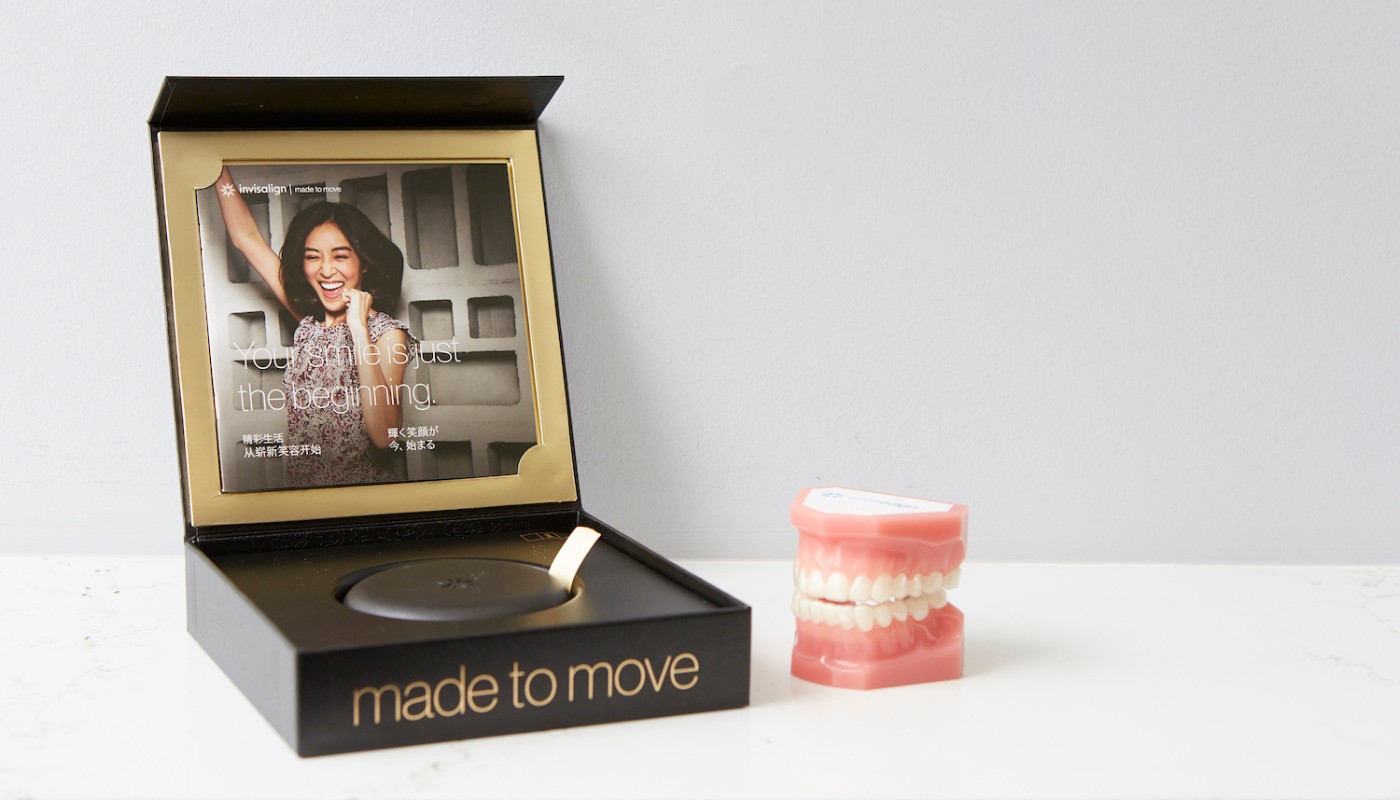 Your dentist will supply you with your Invisalign aligner trays, chewies and elastics — simply pop them all in your Invisalign case and you're ready for the day!
How Much Does Invisalign Cost?
We know cost plays a major role in your decision to straighten your smile with Invisalign. That's why we've dedicated an entire article to the topic! Read up on the cost of Invisalign here.
Worried about the cost of Invisalign? Don't be! We offer a range of flexible and affordable payments plans. Getting the dental care you need doesn't have to break the bank.
Chat to our friendly reception team about our easy and affordable payment plans for your Invisalign treatment.
Got Some More Questions About Invisalign?
That's what we're here for!
If you'd like to know more about Invisalign or how Invisalign attachments work, simply get in touch — we'd love to hear from you!
AFFORDABLE AND FLEXIBLE
Payment Plans Available
Here at Delight Dental Spa, we offer flexible payment plans, ensuring premium dental care remains within reach. We strive to help you smile brighter, faster.

DISCLAIMER:
The content has been made available for informational and educational purposes only. Delight Dental Spa does not make any representation or warranties with respect to the accuracy, applicability, fitness, or completeness of the content.
The content is not intended to be a substitute for professional personal diagnosis or treatment. Always seek the advice of your dentist or another qualified health provider with any questions you may have regarding a dental or medical condition. Never disregard professional advice or delay seeking it because of something you have read or seen on the Site.
DENTAL TREATMENTS
Services We Mentioned:
EXPLORE MORE
Related Articles