Trends and Technologies Revolutionising the Dental Industry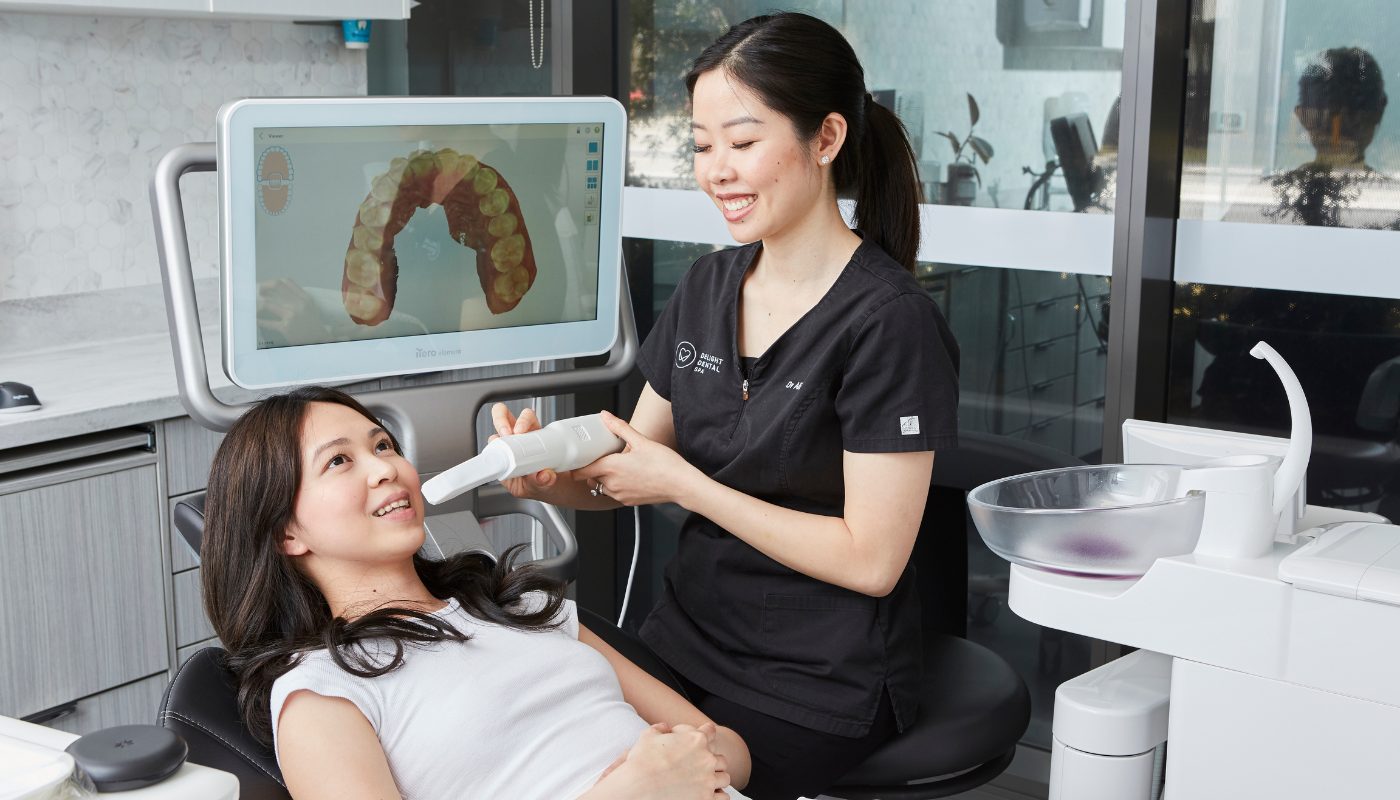 Dentistry has come a looong way. Trust us — you only need to Google "dentistry in the Middle Ages" to *truly* appreciate how far we've come and how lucky we are to have modern dental care. (Warning: If you're squeamish, maybe DON'T Google that.) Thankfully, new technologies and techniques have made dental treatments a lot more comfortable, effective and predictable. *Phew*
Every year, technological advances, consumer trends and societal shifts (global pandemic, anyone?) are revolutionising the dental industry. You've likely even seen these changes happening first-hand at your local dental practice. Let's explore some of the top innovations, tech and trends that are reshaping the dental industry.
Custom Models and 3D Printing
Gone are the days when every dental crown or aligner tray was painstakingly crafted by hand. Now, computer-aided design and computer-aided manufacturing (CAD-CAM) technology is widely used across the dental industry for dental restorations and dental fabrications. Many dental clinics are also now investing in 3D printing technologies to create more custom solutions for their patients.
Not only does CAD-CAM and 3D printing technology allow for a more customised, accurate and aesthetically pleasing outcome, but it can also result in fewer structural flaws, meaning the final product is a lot more durable.
Clear aligners like Invisalign certainly changed the teeth-straightening game. But they couldn't exist without digital technologies like 3D printing. During the manufacturing process, a digital model helps to form the progressive stages between where the teeth are now and their desired position. These stages are then 3D printed into moulds, which the clear aligners are thermoformed over. And voila! That's how you get your customised series of aligner trays.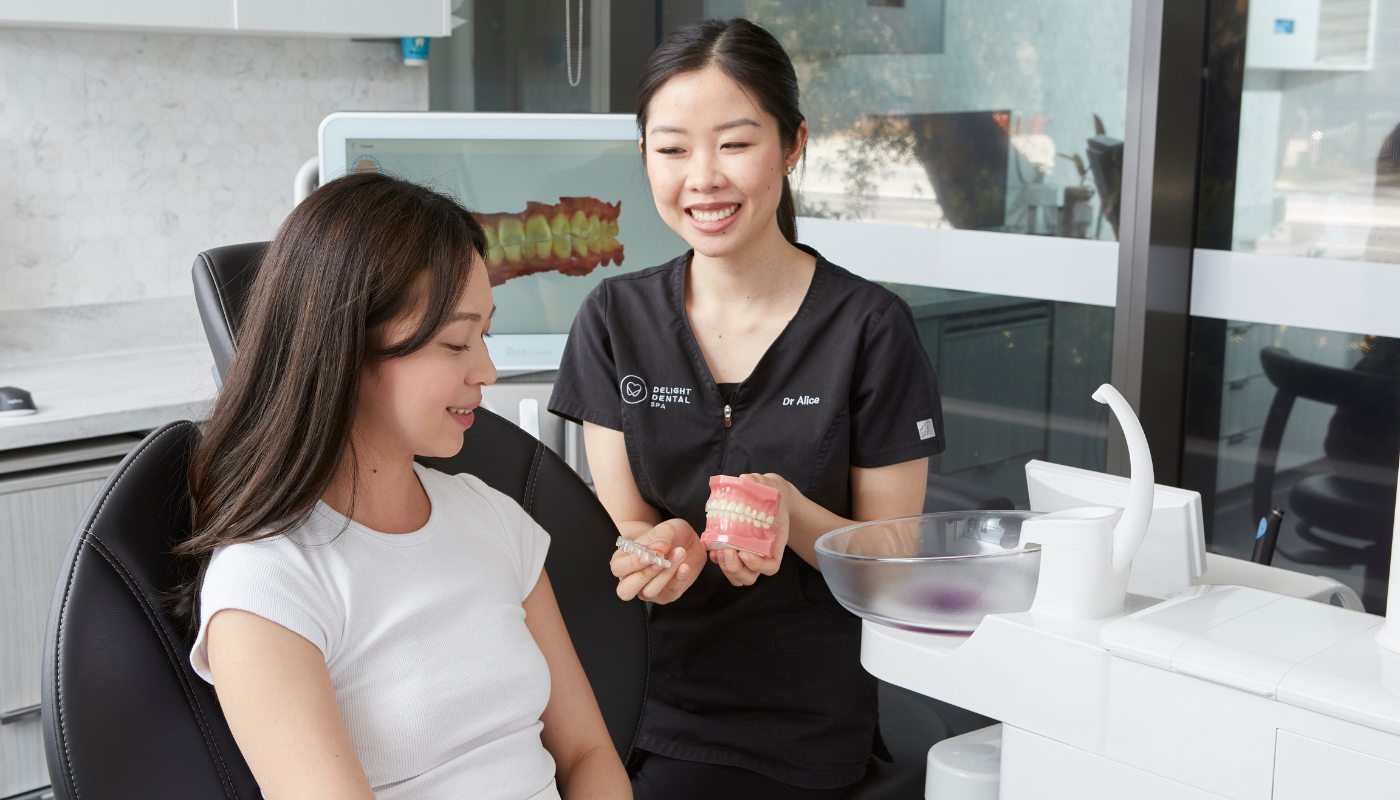 Invisalign aligners trays are perfectly custom moulded to your teeth using digital technologies like 3D printing.
Will We Ever Be Able to 3D Print Entire Teeth?
It's possible! In fact, that day may be closer than we think. Some studies have shown that dentists could potentially use 3D printing and bioprinting technology to recreate an entire tooth — dental tissues and all!
Telehealth or Teledentistry
It seems one of the most talked-about new trends in the dental industry over the past two years is the rise of teledentistry. The pandemic flipped our lives upside-down. It changed the way we work, the way we socialise and even the way we look after ourselves. At the peak of lockdowns and restrictions, many of us could only see our doctors or dentists for a virtual check-up via telehealth or teledentistry appointments.
The Benefits of Teledentistry
Although lockdowns are hopefully now a thing of the past, teledentistry looks here to stay. And with it comes a few benefits.
Better Access to Dental Care
Having access to regular dental care is not just important for your oral health, but also for your overall wellbeing and confidence. Good oral hygiene can have a big impact on both your personal life and your career. But in some rural or underserved communities, getting a regular dental check-up isn't as easy as just popping down the street. This is where teledentistry is vital. With teledentistry, it doesn't matter where you live — you can easily access professional dental care from a computer or smartphone. There are now even online services fully dedicated to virtual dental care, such as ViDe.
Convenience
Teledentistry is also bringing a lot more convenience to dental check-ups. No longer do you need to book an afternoon off work or school for an appointment, your dentist can virtually examine your oral health or the progress of your treatments, like Invisalign, from anywhere.
Thanks to CAD-CAM technology we can now provide you with a dental crown in just one visit.
Fear-Free Dental Check-Ups
Many people experience fear or anxiety when visiting the dentist or doctor. But with telehealth appointments, anxious patients can receive some of the care they need from the comfort of their own home. This can help to reduce the stress they feel around dental appointments and create a more positive and relaxed health care experience for them.
Immediate Emergency Care
When it comes to dental emergencies, there are times when patients cannot get in to see their dentist straight away. Teledentistry offers patients a way to receive immediate advice from a dentist while awaiting a physical appointment.
Digital transformations are happening across every industry — and dentistry is no different. In fact, fully digital workflows are helping to revolutionise the entire dental industry, boosting efficiency, precision and quality along the way.
Types of Digital Dentistry
Cone Beam 3D X-Ray
Many dentist practices are now replacing their traditional film and OPG x-rays with cone beam 3D x-rays. This type of 3D imaging gives dentists (and patients) a much clearer view of the whole mouth, including the jaw, teeth, roots and nerves, enabling more accurate detection and diagnoses of issues.
Intra-Oral Scanners
Intra-oral scanners are becoming the norm across dental practices — you may have even had your mouth scanned with one at your last check-up. Intra-oral scanners create 3D digital scans of the teeth and mouth, offering a digital replacement for traditional impression material. Not only can intra-oral scanners create impressions of the mouth much faster than traditional moulding, but the process is also a lot more comfortable for the patient.
One study found that 84% of dental patients preferred digital impression taking from intra-oral scanning over traditional impression taking.
Patient Monitoring
Digital scanning and visual monitoring have largely replaced x-rays and static photographs when it comes to patient monitoring. This digital approach enables dentists to track their patients' teeth more accurately and detect issues sooner. Plus, it also gives patients a clear and easy-to-understand view of their oral health or their need for treatment.
Digital Smile Design
When you're considering a major (and costly) dental treatment like teeth straightening or dental implants, it's only natural that you want to see what it will look like before you take the leap and proceed. This is where Digital Smile Design steps in and shines! It's easy to see why both dentists and patients love this technology. Digital Smile Design enables your dentist to digitally create your new smile using photo-realistic simulation so you can see exactly how it will look on you on screen. Plus, if you like what you see, your dentist can easily send the design off to the lab to be created.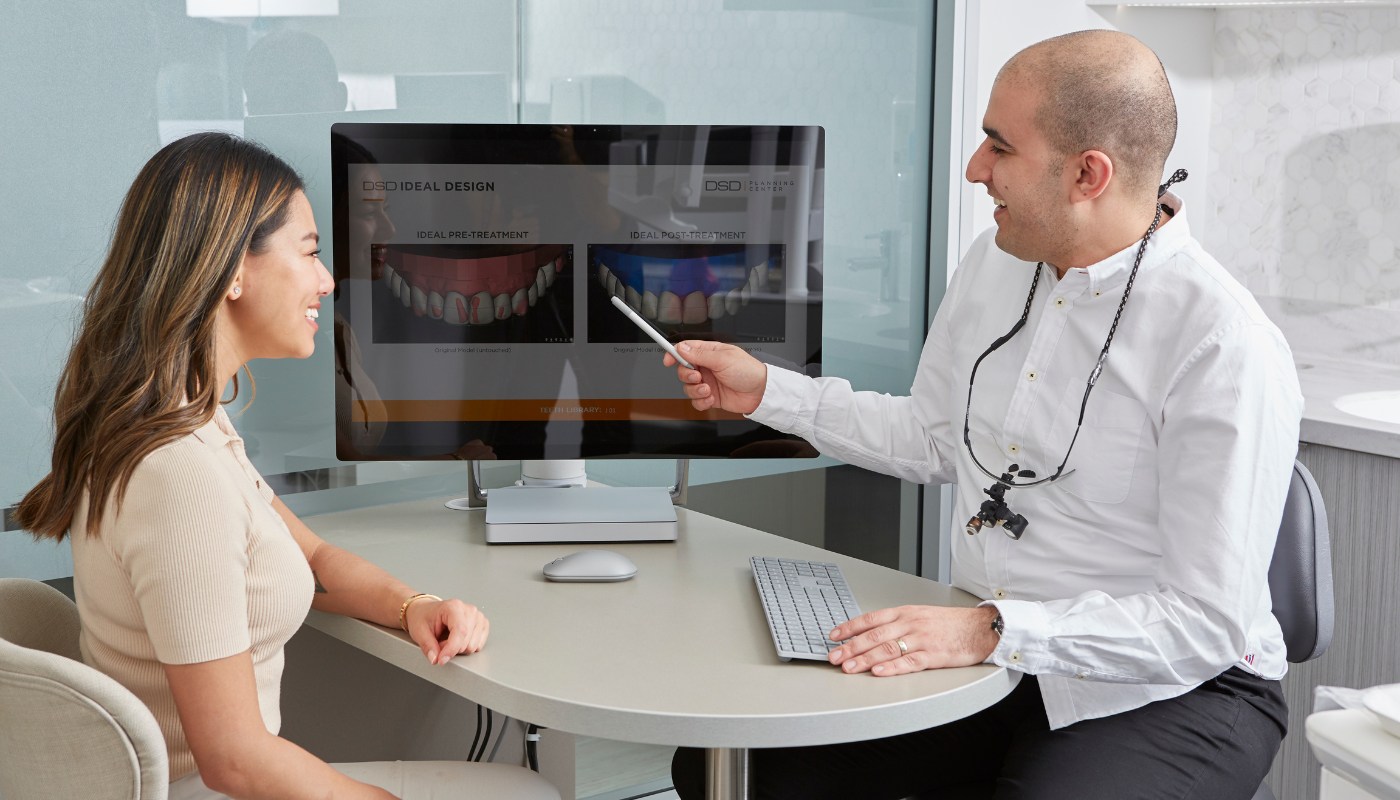 Digital Smile Design gives patients a realistic way to see their new smile on screen before starting their treatment.
Manufacturing of Teeth
Traditionally, if you needed a dental crown, dental implants or porcelain veneers, they would be carefully crafted by hand. And a high-quality result relied heavily on the skills and accuracy of the person who was making it. Using digital technologies like CEREC to produce dental restorations has helped to cut out any risks or uncertainties linked to human error and ensure a much more precise and consistent result. Plus, with a quicker turnaround time, it means your new tooth can be ready a lot sooner.
Technological developments and trends in the dental industry are evolving every day. Who knows what dentistry will look like in the next 10 or even 20 years? But what we do know is that with each new trend or cutting-edge technology, both dentists and their patients get to enjoy an improved experience. Here's to what's ahead!
Your Comprehensive Resource
New Patient Guide & Price List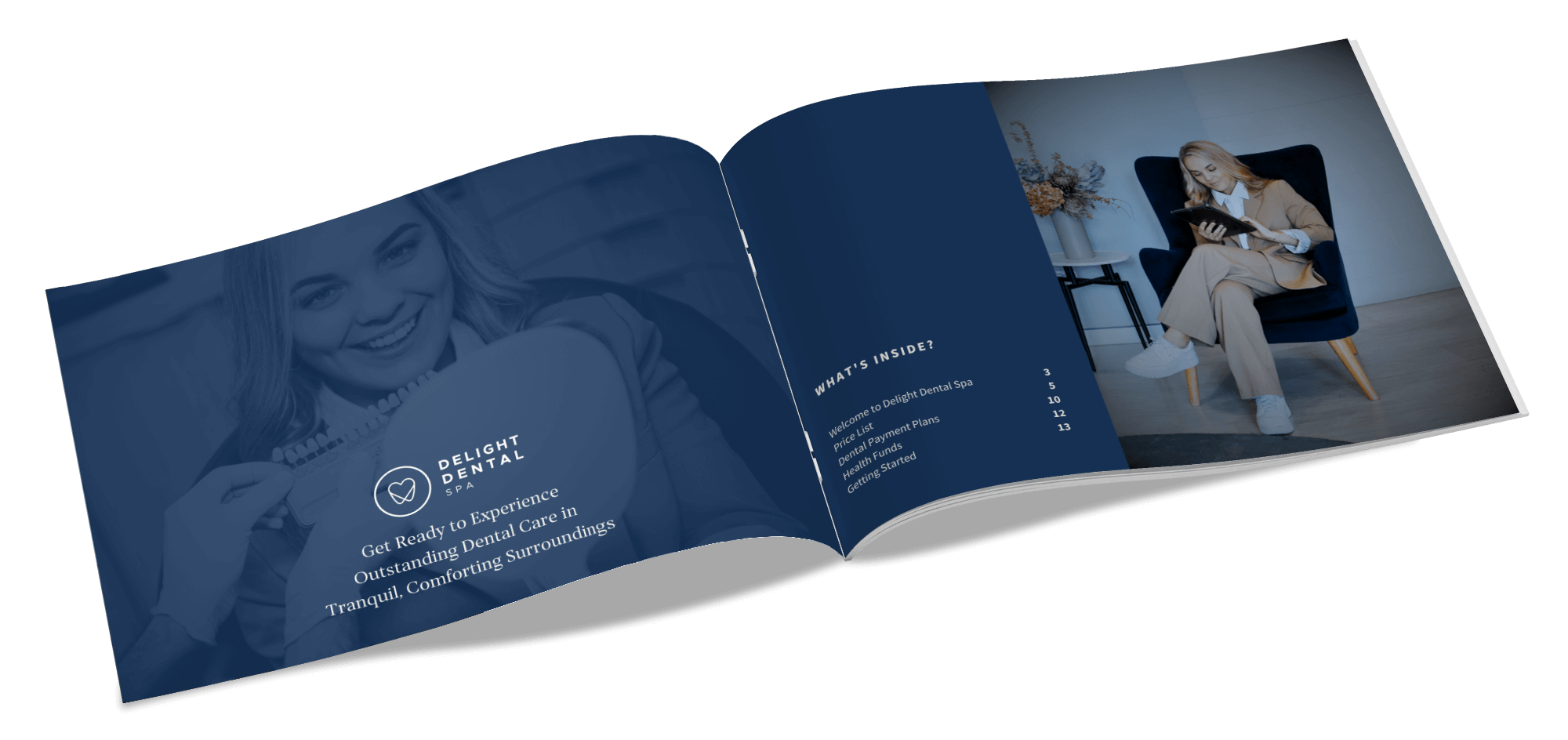 Get All the Information You Need on Pricing, Health Funds and the Application Process for Our Flexible Payment Plans.
Price List
Health Funds
New Patient Form
Dental Payment Plan Options
AFFORDABLE AND FLEXIBLE
Payment Plans Available
Here at Delight Dental Spa, we offer flexible payment plans, ensuring premium dental care remains within reach. We strive to help you smile brighter, faster.

DISCLAIMER:
The content has been made available for informational and educational purposes only. Delight Dental Spa does not make any representation or warranties with respect to the accuracy, applicability, fitness, or completeness of the content.
The content is not intended to be a substitute for professional personal diagnosis or treatment. Always seek the advice of your dentist or another qualified health provider with any questions you may have regarding a dental or medical condition. Never disregard professional advice or delay seeking it because of something you have read or seen on the Site.
DENTAL TREATMENTS
Services We Mentioned:
EXPLORE MORE
Related Articles